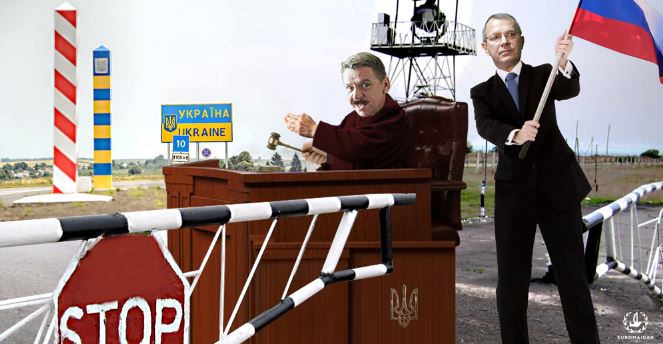 Collage: Hanna Naronina / Euromaidan Press 
Editor's Note
After Volodymyr Zelenskyy's inauguration as the president of Ukraine, some officials from the era of exiled ex-president Yanukovych era came back to Ukraine or dared to apply as candidates for people's deputies even though they had been living in Russia since 2014. This pro-Russian revanche provoked strong resistance from both politicians and civil activists. On 2 June, protesters successfully rallied against the registration of two candidates as people's deputies who had been openly against the Euromaidan and fled to Russia. One more rally was staged on 4 June to prevent the possible cancellation of the law on lustration by the Constitutional Court of Ukraine. The pro-Russian reversal has not been that successful and powerful so far, but who is responsible for it and what is the role of new president Volodymyr Zelenskyy?
Firm joint efforts required from civil society and politicians to prevent banned Yanukovych loyalists from returning to Parliament
In fact, what is called Russian revenge has not yet happened but is close to the threshold. Several people from the Yanukovych era have already returned to Ukraine and most of them have been banned from any access to politics. However, the law and sentences that restrain such potential revenge are now being questioned in courts, particularly by the Opposition Platform – For Life party.
Intensive joint efforts were required by the Ministry of Internal Affairs, General Prosecutor's Office, Security Service of Ukraine and civil activists in order to simply comply with contemporary law and prevent the comeback of politicians from Viktor Yanukovych's times to parliamentary elections this month.
Noteworthy are the cases of Andriy Kliuiev, secretary of the National Security and Defense Council, head of the presidential administration during Yanukovych's presidency, and Anatoliy Shariy, a blogger who criticizes the Euromaidan revolution and disseminates pro-Russian propaganda. Both fled Ukraine: Shariy in 2012 and Kliuiev in 2014.
Lawyer Evgenia Zakrevska lists all of Kliuiev's misdoings in her post:
Andriy Kliuiev accompanied Yanukovych in 2014 in his flight from Kyiv;
From 18 June 2014, he is wanted in Ukraine in the case of the beating of students during the Euromaidan Revolution. The Pechersk Court granted permission to detain him in this case;
From 15 January 2015, Kliuiev is wanted in yet another case on laundering 170 million UAH (US$ 6 million) of state budget money. The court granted permission to detain him in this case as well;
In December 2016, Kliuiev participated in the hearing at the Dorogomylivsky Court in Moscow, where he provided testimony to recognize the events of February 2014 in Ukraine a coup d'etat.
Currently, Kliuiev is hiding in Russia from sentences defined by Ukrainian courts. According to Serhiy Gorbatiuk, chairman of the general prosecutor's special investigation department, Kliuiev will be detained as soon as he enters Ukraine. Nonetheless, at the same time, Kliuiev submitted his candidate's application to run for parliament. Were he to be elected, he would receive the immunity of an MP and be allowed to return to Ukraine without any hindrance.
Quite similar is the story of Anatoliy Shariy, who also lives abroad but was until 19 April 2019 wanted in Ukraine, having been accused of initiating a shootout in a fast-food restaurant in Kyiv in 2011.
Along with the crimes committed by both persons, there was a clear formal reason allowing the Central election committee not to register them – they have not resided in Ukraine for the last five years, as is required by Ukrainian law. That fact was confirmed by a letter from Arsen Avakov, the head of the Ministry of Internal Affairs, and a letter from the General Prosecutor's office.
Initially, the Central Election Committee rejected attempts to register them. However, on 1 June the Supreme Court of Ukraine ruled that the committee should reconsider documents regarding the registration of Kliuiev and Shariy, taking into account that the letter from General Prosecutor's office allegedly provides not enough information to prove that applicants were not residing in Ukraine.
On 2 June the Central Election Committee registered both applicants, referring to the decision of the Supreme Court. The next day a rally took place at Maidan Nezalezhnosti in Kyiv, challenging the decision of the Central Election Commission. People were holding posters against the "revanche," claiming that they "are tired of this shit."
What was important after the rally was the decision of Ivan Bakanov, de-facto acting head of the Security Service of Ukraine appointed by Zelenkyy. He convened an urgent meeting of the Security Service on the request of Andriy Parubiy, head of the Ukrainian parliament. Finally, in addition to letters submitted by the Ministry of Internal Affairs and General Prosecutor's office, the Security Service submitted its own report to the Election Committee with additional facts proving that Shariy and Kliuiev have not been living in Ukraine during the last five years.
Only as a result of these joint efforts did the Central Election Committee finally cancel the registration of Kliuiev and Shariy.
Andriy Portnov attacks through courts
Andriy Portnov, deputy head of ousted president Yanukovych's administration, is the best known amongst the Yanukovych clique who returned to Ukraine from exile after the Zelenskyy victory. There was only one criminal case against Portnov, which was closed in 2016, enabling him to come back as a free man. At the same time, his opportunities are quite limited. Ha cannot be elected to parliament because he has not resided in Ukraine for the last five years. Also, he cannot be appointed to any political or state service office as he is subject to the law on lustration.
Therefore, a possibility for him was to reenter Kyiv National University where he used to teach law, being a professional lawyer. However, as soon as the rector of the Kyiv National University decided to appoint Portnov, student protests started.
The students succeeded in their demands and the rector did not appoint Portnov to office. Therefore, even this possibility was closed for him.
His only activity today is a number of lawsuits filed against Petro Poroshenko, as well as against Prosecutor General Yuriy Lutsenko and the head of the Verkhovna Rada, Andriy Parubiy. By this method, Portnov intends to have all property of Petro Poroshenko seized as well as have him sentenced for "state treason".
"I believe and hope that by the end of the year Poroshenko will be in jail," said Portnov.
At the same time, Serhiy Sternenko, a civil activist from the Right Sector and the "Not Indifferent" NGO confirmed that he has filed a lawsuit against Portnov in response. According to Sternenko, Portnov organized a large-scale information campaign against him. Also, Sternenko claims that Portnov has defended those who committed a series of assassinations against civil activists.
The last barrier separating ex-officials of Yanukovych from politics – the law on lustration – is challenged in the Constitutional Court by the Opposition Bloc party
It would not be so bad if the possibilities of Yanukovych's bedfellows were limited to some lawsuits. However, they are trying to open the only lock that closes the gates to politics for them. This lock is the law on lustration that prohibits any access to politics for 921 officials who served in top office during Victor Yanukovych's presidency.
The law was challenged as soon as 2015 by 47 people's deputies, mainly from the Opposition Bloc which hosted a huge number of ex-members of Yanukovych's Party of the Regions. However, the Сonstitutional Court postponed the consideration of this appeal several times and has been unable to agree on any decision thus far.
Nonetheless, in the second half of the year, the Court made several notorious decisions that diminished the success of Ukrainian reforms. Among them is the cancellation of penalties for illegal enrichment and cancellation of the norm of the law that granted the authority of NABU to invalidate the agreement if corrupt practices are detected. Both of these decisions eliminated a substantial part of the power of the NABU, making the further fight against corruption by the bureau less effective. After these decisions, it would not be a surprise if the Court finally made up its mind on the law on lustration.
Cancellation of the law on lustration may be even more destructive for reforms than the previous decisions of the constitutional court. Therefore, a protest took place on 4 June near the court, demanding lustration be saved.
Why it all happens now and who is responsible
Why has the Constitutional Court not decided on lustration during the last four years but is more likely to now? Why have Portnov and other ex-officials of Yanukovych come back only now, although there were no legal obstacles to come back earlier? The turbulent period of elections is itself attractive for politicians of the past to try their chances to gain some influence. However, the most problematic issue is the absence of any clear strategy and policy from Zelenskyy. This creates a kind of political vacuum that can be filled practically by anything, including claims by Portnov.
The problem of the new government's absence of strategy was clearly emphasized during an interview by Foreign Minister Pavlo Klimkin. It is not only about the foreign policy, but about the domestic policy that the president has yet to present his road map except for a general orientation towards EU, NATO, and digitalization. Most of all, a loss of informal control over politics is evident, which had been established by Poroshenko with all benefits and problems resulting from it.
"Zelenskyy never called for a month and a half. I called the president's administration myself, I wanted to talk, talk a couple of minutes, give some tips for meeting with Macron and Merkel, but it did not happen," Pavlo Klimkin, Foreign Minister
Another problem is that Zelenskyy himself appointed several quite pro-Russian heads of Oblast state administrations. Moreover, he appointed Andriy Bohdan as the head of his office contrary to the law on lustration to which Bohdan is subjected. Such an infringement against the law has not yet been appealed against in court and demonstrated new standards more tolerant to the politicians of the pre-Maidan era.
On the other hand, it would be a mistake to blame only the new President for a pro-Russian wave in Ukrainian politics. The driver of the movement is the Opposition Platform – For Life party supported by pro-Russian oligarch Viktor Medvedchuk. They are the main force challenging the law on lustration.
Also, Serhiy Portnov is backed by Medvedchuk and his TV-channel, where Portnov was granted his own program and started to disseminate pro-Russian propaganda with accusations against the previous authorities. Last but not least, Yanukovych's bedfellows who succeeded in gaining registration as candidates for people's deputies are running from the Opposition Platform – For Life. Former Deputy Prosecutor General Rinat Kuzmin is the best example.
According to the latest polls, this political party is anticipated to gain at best 13% of seats in the parliament. However, it may turn into a huge disintegrative force within Ukraine if not effectively countered by presidential policy. Whatever the policy of Zelenskyy will be, an active part of Ukrainian society is ready for any further conflicts as the last month has come out with at least five noteworthy protests.
Tags: Kliuiev, Opposition Platform - For Life, Portnov, Shariy, Yanukovych