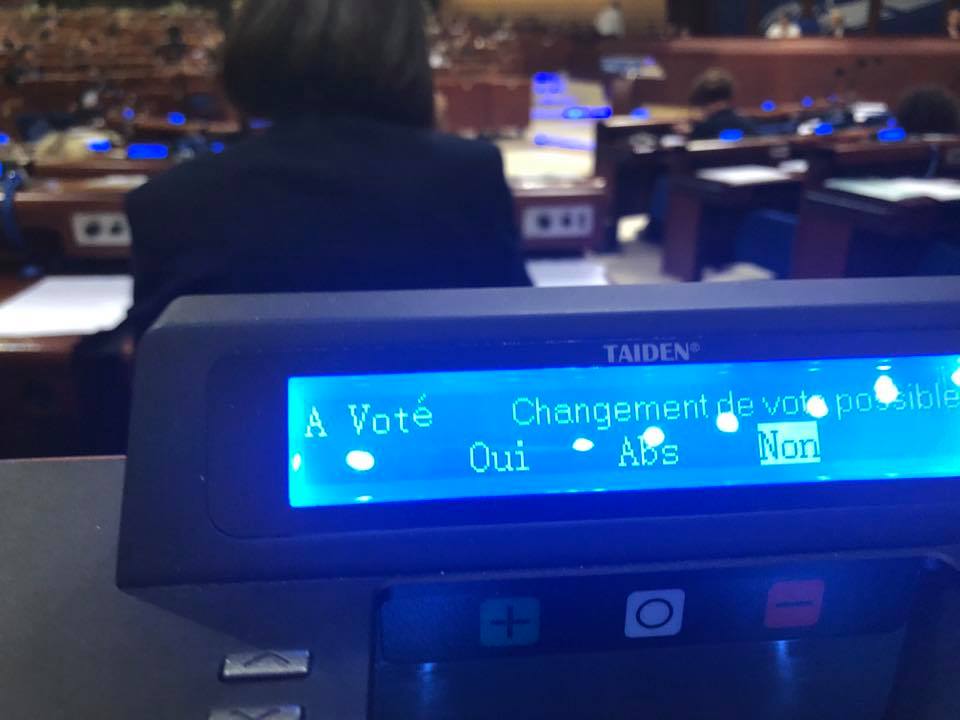 Photo: Iryna Gerashchenko's FB 
The Parliamentary Assembly of the Council of Europe adopted a decision to change its sanctions mechanism, in which it invited Russia back to work in PACE without limiting its voting rights.
The decision was adopted on the night of 25 June after lengthy readings of the 200 amendments submitted by the Ukrainian delegation – a tactic which was used for the first time in the practice of PACE.
118 Assembly Members voted in favor, 62 were against, 10 abstained. See the results here.
The decision adopted in Strasbourg changes the existing sanctions mechanism. The PACE rules have been changed: the Assembly no longer has the right to apply key sanctions to any national delegation, including Russia. PACE can no longer limit their right to vote, speak at sessions, participate and vote in the Assembly committees, despite all the violations undertaken by the Russian state and its MPs.
However, PACE retains its right to fully decline to approve the credentials of a delegation of a separate country. Possibly, smaller sanctions can be adopted as well, but the resolution is not clear on this. PACE Assembly Members have varying views on the norms of the document, and their position should be agreed in the near future.
A separate norm of the decision allows Russia to submit the list of its delegation in the middle of the session, despite the statute stating that the list of the delegation is submitted only at the beginning of the year. This will allow Russia to submit a list of its delegation on 25 June, no longer being afraid of sanctions. In the last three years, Russia had refused to take part in PACE activities, demanding to guarantee that no sanctions will apply to it.
Ukrainian MPs have already declared that they will submit a complaint on the authority of the Russian Federation as soon as it submits its list. If this happens, then the issue will be discussed on 26 June.
Tags: PACE, Russia, Sanctions, Schroederization, Western appeasement