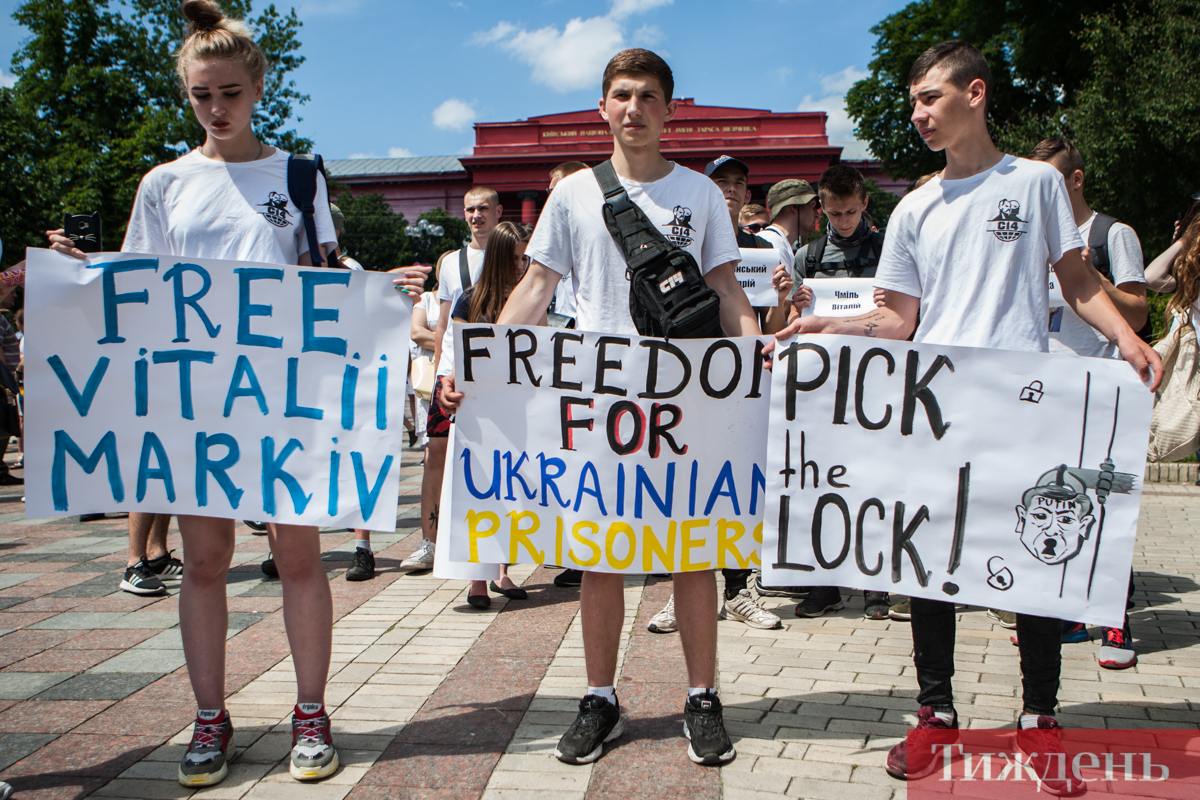 At the march for the freedom of Ukrainian hostages of the Kremlin in Kyiv on 1 June 2019. Photo: tyzhden.ua 
Three Ukrainian NGOs which unite the relatives of Ukrainian citizens illegally imprisoned by Russia have appealed to Members of the Parliamentary Assembly of the Council of Europe, which are set to
consider
the question of whether the rules of the Council of Europe could be changed to lift the sanctions on the Russian delegation, allowing it to participate in PACE activities. The sanctions were slapped on the delegation after Russia occupied the Ukrainian peninsula of Crimea and fomented a war in Donbas. Were they to be lifted, it would constitute the first major lifting of anti-Russian sanctions by a Western organization since 2014. The statement was
published
on the website of the NGO of relatives of political prisoners of the Kremlin.
Open letter to PACE Assembly Members:
Don't deprive us of hope for the liberation of our relatives who are imprisoned by Russia
Deeply respected PACE Assembly Members,
The number of victims of Russia's undeclared war against Ukraine is increasing day by day. In addition to the Ukrainians who lose their lives every day because of the war, at least 98 people have found behind themselves behind bars because of politically motivated cases. Having committed no crime, they became hostages to and an instrument of Russia's war. Through falsified trials, Russia suppresses those who disagree with its imperial policies and creates the image of an enemy for its own people.
At least 120 hostages who should have been exchanged under the Minsk agreements are kept in the basements of occupied Donbas. Their number is joined by 24 Ukrainian Navy sailor prisoners of war, whom Russia seized after the attack on Ukrainian ships in the Black Sea. And also 8 servicemen who were captured by the so-called DNR on 22 May 2019.
Russia's aggression against Ukraine, which began in 2014 after the annexation of Crimea, has changed our lives forever because all these people are our relatives. We, the families of Ukrainians illegally imprisoned by Russia as part of its undeclared war against Ukraine, are terrified by the campaign for the unconditional return of Russia to PACE which is being conducted by key EU countries.
This is being done contrary to PACE's own resolutions, which clearly indicate that the return of the Russian delegation to the Assembly is only possible if "significant progress" is achieved in implementing key resolutions calling on Russia to end its aggressive policy.
As much as we were eagerly watching the voting on PACE resolutions, in which the leading human rights body in the European continent called on Russia to release our relatives (#2034, 2112, 2198, 2259), so much we are now in despair. It turns out that the hope given to us that justice will eventually prevail – and our relatives will be released from the unfair accusations presented in the show trials reincarnated from Stalin's era – is now in jeopardy. It turns out that our conviction that the Council of Europe is guarding law and order and protecting human rights on the continent may be illusory. It turns out that it's an open question whether Europe has an arbitrator that would point out which behavior is incompatible with the principles of humanity and justice to aggressor countries.
Unconditional "forgiveness" of the aggressor would send it a signal that everything is allowed and that it is above the rules. The price of this is even more victims. Both those whose life was taken by the war in eastern Ukraine (there are at least 13,000 to date), and those who, like our relatives, will be sentenced to spend their lives behind bars without committing any crime.
Often being in Russian prison presents a risk to their lives, because Russia deliberately deprives our seriously ill relatives of the right to medical care, like in the cases of seriously ill Edem Bekirov and Pavlo Hryb.
Please do not deprive us of the hope of seeing our sons, husbands, and brothers at home again. Do not deprive their young children, of whom there is more than a hundred, of the hope of hugging their parents again. We urge the Council of Europe to intensify pressure on Russia to comply with PACE resolutions, in particular, those that urge it to free our relatives. We have no other arbitrator except for the Council of Europe. We ask you to stand on the side of justice.
Sincerely,
The Union of relatives of political prisoners of the Kremlin
Organization of relatives of captives in ORDLO "Freeing from captivity"
Organization of relatives of captive sailors "Return Home"
---
Just one day earlier, a massive march in support of the Ukrainian hostages of the Kremlin took place in Kyiv with the participation of representatives of these organizations
Read also:
Tags: #LetMyPeopleGo, Crimes of the Russian occupation regime in Crimea, PACE, Russian repressions in Crimea, Ukraine