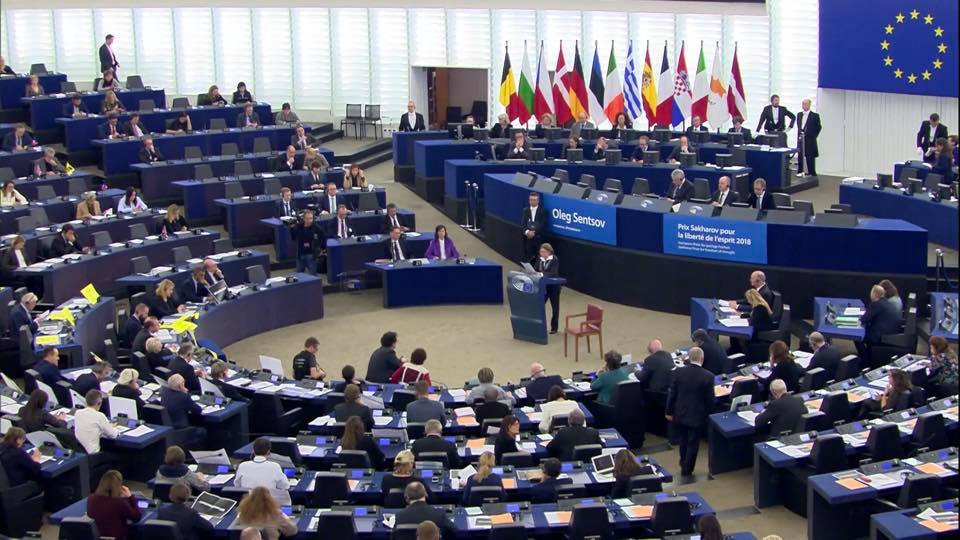 The EU parliament during the Sakharov Prize awarding ceremony. Photo: screenshot from official broadcast 
This article has been updated with information available from the text of the resolution, published on 13 December
.
On 12 December 2018, the European Parliament adopted a resolution calling to stop the construction of the NordStream2 pipeline and condemned Russia's aggression in the Kerch Strait, calling for imposing additional targeted sanctions if the Ukrainian sailors whom Russia captured in the Black Sea are not released, a press release on its website stated.
The resolution was adopted by 433 votes to 105, with 30 abstentions, evaluating the latest developments related to the EU-Ukraine association agreement, which entered into force in 2017.
The MEPs condemned the construction of the Nord Stream 2 pipeline which bypasses Ukraine, "as it is a political project that poses a threat to European energy security. and called for it to be canceled.
The MEPs also addressed the Russian attack on Ukrainian ships in the Black Sea on November 25, in result of which 24 sailors, who are POWs by legal definition, were taken captive by Russia, transferred to Moscow, and are prepared to be put on trial.
"MEPs strongly condemn Russia's recent aggression against Ukraine on 25 November in the Kerch Strait and demand the immediate and unconditional release of all Ukrainian vessels and sailors. They are seriously concerned that the tension may constitute a creeping attempt to annex Ukraine's sovereign rights in the Sea of Azov. Russia, therefore, has to guarantee the freedom of navigation through the Kerch Strait and in the Sea of Azov.

The resolution calls on the EU and its member states to introduce targeted sanctions against Russia if the Ukrainian servicemen are not released and if there is any further military escalation," the press release said.
The text of the resolution published on 13 December also expressed a call on the EU and its Member States to close access to EU ports for Russian ships coming from the Sea of Azov if Russia doesn't establish freedom of navigation through the Kerch Strait and Azov Sea and urged the OSCE and its Members to extend the mandate of the OSCE Special Monitoring Mission to Azov Sea.
As well, MEPs demanded Russia release imprisoned Ukrainian filmmaker Oleg Sentsov, who was awarded the Sakharov Prize for Freedom of Thought that day in the European Parliament, and all other illegally detained Ukrainian citizens. There are around 70 of these people imprisoned on political motives; it is demanding their release that Oleg Sentsov had held a hunger strike for 145 days. This, however, isn't the first resolution calling for the release of the Ukrainian political prisoners of the Kremlin; at least three have been adopted already.
Regarding Ukraine's reform efforts, the MEPs praised energy, health, pensions, education, public administration, and decentralization reforms, called to crack down on corruption and oligarchs, and condemned the rising number of physical attacks against civil rights activists and journalists and violence towards members of the Roma and LGBTI communities.
Read also:
Tags: #LetMyPeopleGo, Azov Sea, Oleh Sentsov, prisoners of war (POWs)