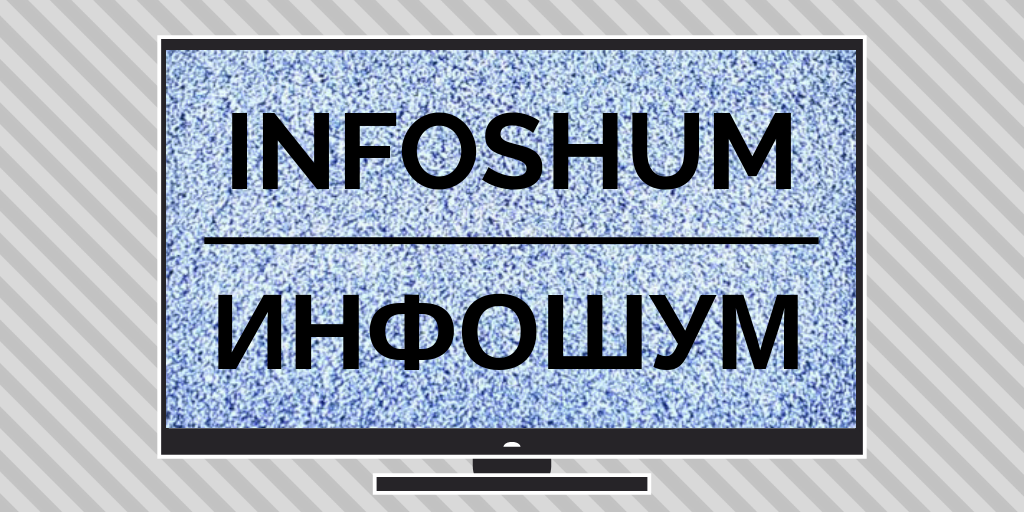 There is truth and there is post-truth. There is information and there is 
disinformation
. But in the grey zone between these categories, there is 
infoshum 
– Russian for "info-noise."
The word recently gained traction in Russia after columnist Oleg Kashin published an article in the magazine Republic headlined: "State Duma to Deal with Masturbation: Where Does the Meaningless News about Onishchenko and Pushkov Come From?"[The headline in Kashin's column is a wordplay with the Russian verb zanimat'sia, which can both "deal with" and "to practice" – EUvsDisinfo]
Columnist: State-controlled information noise 
The word infoshum has its roots in the internationally known term "white noise", i.e. random and meaningless noise.
In Oleg Kashin's analysis, infoshum is a massive flow of news stories, in which statements with little or no real importance, often made by politicians and officials, become disproportionally popular in the Russian media that observe loyalty to the Kremlin line.
But while similar phenomena could be said to exist also in other places in the world, Kashin claims that certain Russian media are "licensed" by the Kremlin to produce the infoshum – and that the other Kremlin-loyal media are obliged to repeat it, whereby the infoshum spreads and gets to dominate over other news.
"Zakharova ridiculed someone"
The title of Kashin's article refers to one such example of a random news story, where Gennady Onishchenko, a member of the State Duma, suggested that it was time to inform young Russians about the alleged dangers of masturbation.
According to Kashin, the typical headline of an infoshum story includes the name of a politician or an official and a reference to something they have said. In other words, there is no real event or even, say, a real proposal for a new law; just a statement: "[Senator Alexei] Pushkov ridiculed [someone]"; "[Foreign Minstry Spokesperson] Maria Zakharova told [someone] off", etc.
Kashin mentions as an example of infoshum a recent case when stories about how commentators had "ridiculed the tie worn by [Ukrainian President] Petro Poroshenko" on a photo taken after a meeting with US President Trump, were relayed as important news by a number of media.
According to Kashin, the infoshum generated by these stories "made it almost impossible to know why and under what circumstances the presidents had been photographed – whether they had a personal meeting, what they had talked about."
The columnist also underlines that stories like these are easy to work with and hardly ever need any fact-checking: there is no real event requiring an investigation, only a statement; and the sources are only happy to be quoted in the news cycle.
Some cases covered in articles on the EUvsDisinfo website could also be classified as infoshum. The term will, for example, be relevant when RIA Novosti reports that yet another group of foreigners, e.g. from Norway or the US, has visited Crimea and said something positive, and these statements, which have no political or diplomatic importance, are blown up to become news.
Read also: Russia presents random foreigners brought to occupied Crimea as official delegations
"Anti-journalism"
In Kashin's view, the radio station Govorit Moskva ("Moscow Speaking") has taken over the leading role in spreading infoshum from the media outlet he sees as the previous leading transmitter of infoshum, the daily newspaper Izvestiya. "It can be assumed," Kashin writes, "that [Govorit Moskva chief editor] Sergey Dorenko has somehow achieved this infoshum license for himself and has become the authorized generator of pseudo-news."
Kashin calls the infoshum a form of "anti-journalism". In his view, it is "produced in order to ensure an output that is obviously meaningless" and its "success is to become viral for the sake of becoming viral."
Infoshum [info-SHOOM] can now join other Russian terms that have survived in their Russian original outside Russia, such as kompromat, maskirovka, agitprop – and, of course, dezinformatsiya.
---
Further reading:
Tags: infoshum, Russian propaganda