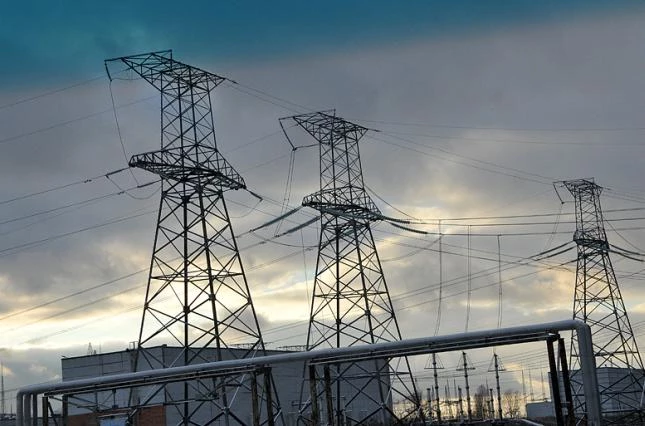 Photo: Vasyl Artiushenko, ZN.UA 
Ukraine's energy system has a chance to dump its dependency on Russia and synchronize its work with the European energy market. On 28 June 2017, Ukraine's national energy company Ukrenergo signed an agreement on the conditions on which Ukraine can connect to the European continental network. If Ukraine will uphold these conditions, the Ukrainian energy system will be able to synchronize its work with the EU system in 2025 and isolate itself from the power grids of Russia and Belarus, which it works synchronously with from Soviet times. Moldova, which is largely dependent on imports of Ukrainian energy, plans to sign a similar agreement with ENTSO-E in the nearest time.
The document was signed at the General Assembly of the European Network of Transmission System Operators for Electricity (ENTSO-E) in Brussels. It sets out a reform framework for Ukraine's energy grid over the next five years. Ukraine must modernize its energy system and bring its power stations in accordance with European standards, many of which are using obsolete equipment. Another requirement set before Ukraine is to reform its energy market and make it transparent.
One of the benefits of such an integration for Ukraine is energy security and energy independence from Russia.
Ukraine's energy grid is one of the largest in Europe, with a total generating capacity of 55,331 MW. 96% of it works synchronously with Russia, Belarus, and Moldova, and only 4% is exported. Right now, only one power station is connected to the EU power grid – the Burshtyn TES. The EU energy space includes 34 EU countries and 42 transmission system operators.
To integrate into the EU energy grid and market, Ukraine will need to complete a row of obligations specified in the Agreement, which is confidential in itself. The Agreement has a catalog of measures which Ukraine will need to perform over the next five years, and a road map with specific deadlines. Particularly, it will need to bring its networks and energy objects in line with EU standards, to correct the operations of the automatized system of regulating the frequency and capacity of its energy grid. As well, Ukraine will need to demonstrate the stable and smooth work of its energy grid working in isolation from Russia.
Ukraine declared its intention to join the EU energy grid in 2005 and submitted the relevant application in 2008.
According to Mariya Tsatyrian writing for RBK Ukrayina, Ukraine is a serious competitor for EU energy companies, because it can bring a large volume of cheap energy into the market. Apart from this, Ukrainian energy production is considered to be "dirty" by EU standards – for instance, 40% of Germany's energy production comes from renewable sources, while in Ukraine, the number was only 3.8% in 2012. Additionally, the EU is wary of how Russia will react to Ukraine's energy independence.
RBK notes that the integration of Poland into the EU power grid 15 years ago brought competition into its internal market and as a result, prices fell by 30% in the last 5 years: to EUR 0.12-0.15 per kW. In Ukraine, consumers pay EUR 0.03-0.06 per kW.
If Ukraine will join the EU network, this will minimize its dependency on anthracite, the main sources of which are blocked in occupied Donbas. Ukraine will have the possibility to buy energy directly from the EU market instead of searching for coal exporters.
At present, Ukraine is forced to import coal from the South African Republic and is negotiating on imports from the USA. Until the end of 2017, Ukraine needs to import an additional 4.2 mn tons of anthracite, 3 mn tons of which are planned to be imported from the USA. This all costs a lot of money which can be saved if Ukraine can buy energy directly and at market prices.
Additionally, Ukraine will be able to sell energy to the EU. Ukrenergo forecasted that profits of up to $1.5 bn are possible. De-monopolization and transparency of the market are among the other benefits for Ukraine from this deal: according to the Agreement, Ukraine will need to create an electronic exchange for trading electricity and forming an hourly equilibrium price, form a balancing market, market of bilateral agreements, and the free choice of service providers for consumers.
RBK Ukrayina notes that the key risks which can influence Ukraine's synchronization with the EU energy grid are political. External political risks include the reaction of Russia, which always viewed Ukraine as its export springboard into the EU market. The source of RBK in the government noted that they expect all sorts of countermeasures from Russia, including the use of force. But internal political risks are no smaller: Ukraine's traditional corruption and lack of political will are all able to bring the energy integration processes to a halt.
Ukraine, however, is isolated from this system at the moment: 96% of Ukraine's energy system is connected to Russia, Belarus, and Moldova. This is a dangerous situation: should a power deficit arise, Russia will be the only country capable of supplying it to Ukraine. If Ukraine will synchronize its power production with the EU's, it will be able to import it from there.
Tags: Economy, Energy, EU integration, News