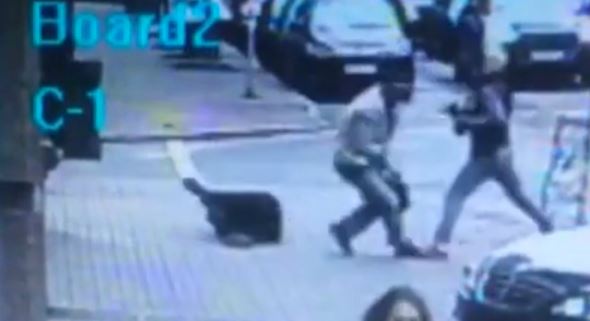 Snapshot from the video  
Anton Herashschenko, advisor to Ukraine's Minister of Interior, named the murderer of former Russian lawmaker and Putin critic Denis Voronenkov, who had been shot to death in Kyiv 23 March 2017 in an attack that also took the life of the assailant.
Read more: Former Russian MP Voronenkov, key witness in Yanukovych treason case, assassinated in central Kyiv
In a facebook post on 24 March, he wrote that the murder was done by Ukrainian citizen Pavlo Parshov, who was born in 1988 in Sevastopol, and that he is an agent of the Russian special services. However, he provided no confirmation to that statement.
According to Herashchenko: 
Parshov served in the Ukrainian National Guard for 13 months, left in August 2016, did not take part in combat operations against Russian-backed militants in Donbas;
In 2014, he was recruited by the Russian special services and underwent special training in a "saboteur school in Russia" which was established during Stalin's time
Parshov was tasked with infiltrating one of the divisions of the Ukrainian armed forces or the National Guard, desirably with a bright name in the "public consciousness" and "pretend to be an ordinary soldier"
Parshov had never traveled out of Ukraine officially, but in February 2015 crossed the Ukrainian border by foot at a checkpoint at the border with Belarus.
Herashchenko announced that further recruits to the Ukrainian Army, National Guard, and other law enforcement structures of Ukraine will be screened for possible collaboration with Russian special services.
To this, Vladimir Putin's press secretary Dmitry Peskov responded that these accusations are "absurd", adding that "we hope they will not mean a refusal to perform serious investigative actions."
According to the website of the  Ministry of Internal Affairs of Ukraine, Parshov was a resident of Dnipro and was wanted for crimes under Article 205 and Article 209 of the Criminal Code of Ukraine (fictitious entrepreneurship and money laundering) already in 2011.
The National Guard of Ukraine confirmed that Parshov indeed was recruited to the Donbas battalion of the National Guard on 25 August 2015 but was fired from service for "breaking the terms of the contract" and that they were investigating information on Parshov being wanted.
According to the Mariupol website 0629, the murderer of the Russian ex-MP had served in the Donbas battalion in Mariupol starting from 2015 with the callname "Boxer," left the battalion in 2016; earlier, he had served in the Azov battalion and was related to another battalion called Karpatska Sich. However, Azov's press service denied that Parshov had relations with the battalion.
A surveillance camera video of the murder, published by RBK-Ukraina, had surfaced on 24 March 2017. It was deleted from RBK's channel following complaints of explicit content, so we've uploaded it to Vimeo.
Murder of Denis Voronenkov in Kyiv. Video by RBK-Ukraine from Alya Shandra on Vimeo.
It shows how a hooded man walks behind the Russian ex-MP and his bodyguard, and then shoots at Voronenkov and his bodyguard. Then, the bodyguard of the politician shoots a couple of times at the assailant.
Denis Voronenkov was assassinated in central Kyiv near the hotel from which he was departing together with his bodyguard to a meeting with another exiled Russian ex-MP Ilya Ponomaryov. Both are important witnesses in the case of Ukraine's ex-President Yanukovych's state treason, in which he is accused of inviting Russia to invade Ukraine. The Ukrainian Prosecutor's office is considering two motives behind the murder – that Voronenkov was killed due to being either a witness in the case on Yanukvoych's alleged treason, or an actor in an investigation about the FSB's involvement in smuggling operations under the cover of Vladimir Putin.
Read also: Who was Denis Voronenkov, exiled Putin critic murdered in Kyiv?
Dear readers! The times are changing and we are too – Euromaidan Press is planning a website overhaul. And we want to know what you want to see on our site and how it could be improved.
Please fill out this short form so we can bring you the stories YOU want to read. Thank you!

Tags: News