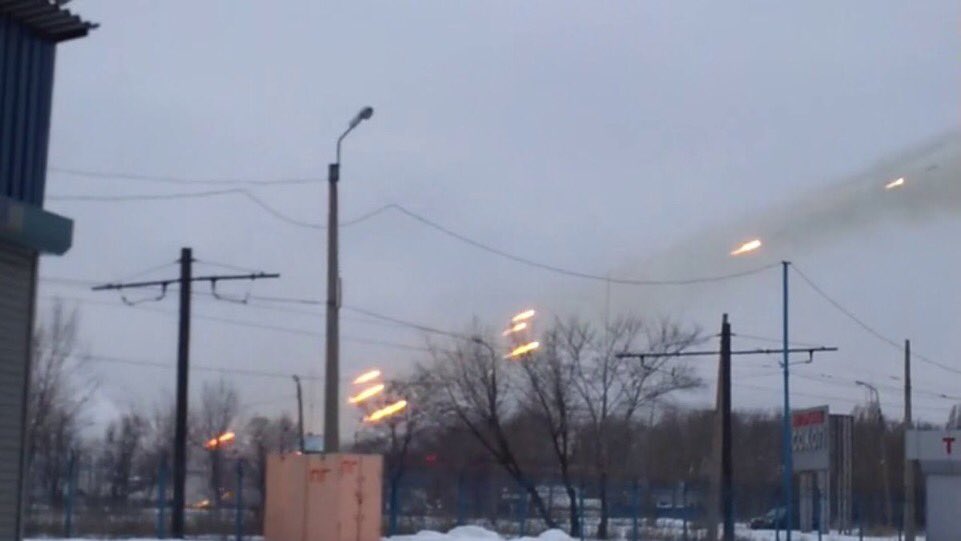 Russian forces firing Grad multiple launch rocket systems at Avdiivka from inside of residential areas of occupied Donetsk in January 2017 (Image: video capture) 
Russian forces in Ukraine are now using one of the most beloved tactics of terrorist groups like the Palestinian Hamas organization, using civilians as human shields behind which they fire on their opponents in order to prevent their opponents from responding with attacks, according to Vitaly Portnikov.
Citing the evidence for this assembled and published by the Bellingcat group last week, the Ukrainian analyst argues that Putin is thus promoting what he calls "a Donetsk Hamas."
Hamas, as Portnikov notes, has always been more interested in provoking an Israeli response to its attacks than in the consequences those attacks have in Israel because Israel's reaction almost always results in Palestinian victims and that helps maintain Hamas' standing and allows it to recruit more people for its campaign.
"Vladimir Putin," the Ukrainian commentator continues "is one of the few political figures of the contemporary world who is not shy about extending his hand to activists from Hamas," offering to cooperate with a group most of the world considers terrorist and even inviting its leaders to Moscow.
Now Putin's forces are using the Hamas tactic of "a living shield," but no one should be surprised because, in large measure, the originators of this tactic were from Moscow rather than the Middle East. KGB officers trained the terrorists of the Middle East, and thus this criminal form of war "is not a Palestinian but a Kremlin invention."
Indeed, it is "no accident" that Putin, a former KGB officer, "promised to put women and children in front of his forces during attacks on Ukraine," Portnikov points out. What the Kremlin leader is doing is even "more dangerous" than what Hamas terrorists are doing in the Gaza strip.
In Ukraine, "Russian mercenaries and soldiers are using Ukrainian citizens to cover themselves. It isn't even very important to them whether Ukraine responds to their shelling or not. Since they themselves, as has been the case many times in the past, can shell the residential areas of [occupied] Donetsk and other Ukrainian cities and then accuse the Armed Forces of Ukraine of doing that."
"For Putin and his puppets," the Ukrainian commentator says, "what is important is sowing in Ukraine an atmosphere of hatred by forcing Ukrainians to hate their compatriots in the Donbas and the residents of the Donbas to believe that Ukraine does not view them as its citizens and wishes them ill."
"The best response to the terrorists is not to fall victims to this shameful propaganda paid for with human lives. Ukrainians and all the residents of all the regions of Ukraine have a common enemy – the Kremlin regime." And for those in the occupied areas, "this enemy presents an even greater danger than it does for residents of the remainder of the country."
They, far more than the other, are "hostages of [Moscow's] goals and ambitions." And that means that "the common task of all Ukrainians is an end to the occupation, the expulsion of the enemy from Ukrainian lands, and the reintegration of the liberated territories," so that the Kremlin "won't be able to use for eternity innocent people as 'a human shield.'"
---
Related:
Tags: Donbas war (2014-present), human shield tactics, International, KGB, Palestinian Hamas organization, Putin, Putin regime, Russia, Russian military crimes, Russian state terrorism, Russo-Ukrainian War (2014-present)