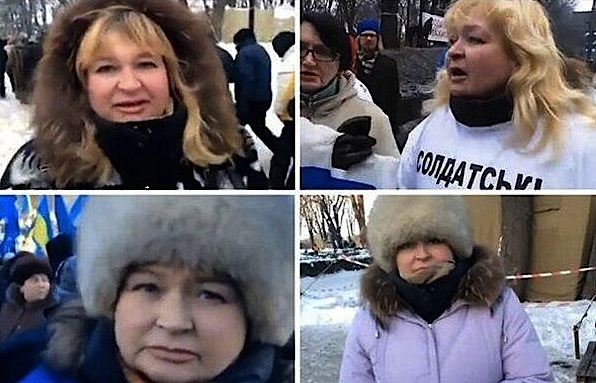 Donetsk refugee, Odesa refugee, mother of a soldier and Kyiv protester -
"all-in-one" hero of various Russian media reports. Image from belaruspartisan.org 
On 27 May 2016 Petro Poroshenko signed a decree banning 17 Russian journalists from entering Ukraine till the end of 2017, accusing them of "stirring hatred."
Following scandals around Ukraine banning dozens of foreign journalists in August 2015, as well as a recent controversy when the Myrotvorets website published personal contacts of thousands of journalists, the most recent decision also sparked outrage and discussions.
For instance, on 1 June Human Rights Watch condemned Ukraine for "targeting journalists" and "encouraging censorship."  Ukrainian authorities should immediately drop a ban on 17 Russian journalists and protect media freedom, Human Rights Watch said. The Committee to Protect Journalists was also "alarmed" and urged Ukraine's government to rescind the ban and "resist the urge to fight propaganda with censorship."
However harsh "censorship" and "war on journalism," as The New York Times has recently put it, sounds, one should question whether whatever those outlets are doing can be defined as ​journalism​. As Russian defense minister Sergei Shoigu recently asserted, Russian media is "but another arm of the armed forces."
Read more: The media must serve the military — Shoigu
The legal definition of what constitutes journalism and what should be considered not reporting but propaganda is still absent. Here we provide examples of the reports that the media personalities in the list made on Ukraine and let our readers decide how Ukraine should defend its national security at the time when Russia is waging a war in Donbas.
The list of 17 names includes key media personalities from the largest Russian outlets. The disinformation produced by all those outlets has been debunked on multiple occasions in the
EU Stratcom's Disinformation Review
reports, in Ukrainian
StopFake
publications, and has been exposed as fakes by bloggers. We gathered examples of how all those medias report on Ukraine to illustrate why Ukraine banned their management.
Konstantin Ernst, Director General at Pervyi Kanal; Irada Zeynalova, anchor at Pervyi Kanal
On 25 October 2014, Pervyi Kanal aired a story under title "Horrible footage from Donbas that Ukrainian TV doesn't air were shown in Kyiv." The news anchor informed that a hacking group showed photographs of Donbas civilians in mass graves on advertisement screens via a special hacking operation. But in fact, 1995 photos from Groznyi, Chechnya were used in the show.
False allegations against the Ukrainian army, who are portrayed as perpetrating mass atrocities against Donbas civilians is one of the favorite tactics of Russian propaganda. It aims to lower the combat morale of the Ukrainian army, which is defending their country from a Russian hybrid invasion.
Pavel Gusev, owner and editor of Moskovskiy Komsomolets
"Is he drunk? Poroshenko presented a ball to a limbless soldier," Moskovskiy Komsomolets wrote on 22 March 2015, adding: "The speech and appearance of the Ukrainian president gives grounds for various assumptions."
In fact, the incident was entirely fabricated by the outlet. Firstly, Denis Golodyuk from the 95th aeromobile brigade has all limbs. Secondly, the ball was presented by "Dynamo Kyiv" football club as a symbol and hope for his speedy recovery.
Attacks on Ukraine's head of state are another favorite tactic of Russian propaganda outlets. As Andrei Illarionov, former adviser to Russian President Vladimir Putin
noted
, bringing down Petro Poroshenko is one of the primary goals of the Kremlin for the present period.
Vigen Akopyan, chief editor of REGNUM information agency
Ukraine demands financial compensation from Mongolia for the XIII century Mongol invasion of Rus, REGNUM wrote on 1 March 2016. It claimed that the Mongolian parliament received an official letter from the Verkhovna Rada of Ukraine demanding compensation for destroying Kyiv by Batu Khan's army. However, such a document can't be obtained neither at Ukraine's parliament website, nor in the archive of its documents, or even via Google search.
Andrey Surkov, chief editor of Novorus.info
Novorus.info website serves as the "Central information agency of Novorossiya" which declares "help in establishing economical, political, and cultural links between Russia and Southern-Eastern part of Ukraine." On the main page, the website uses the Georgian Ribbon and a map of Ukraine's southern and eastern regions, including Russia-occupied Crimea and Donbas. Some of the sections of the website are: "News of Novorossiya", "Russkiy Mir", "Eurasian Union". A regular "statement of the official representative of the national militia of "Luhansk People's Republic" is published every day.
The "Novorossiya" project was Russia's original plan for taking over Ukraine after the Euromaidan revolution. However, pro-Russian protests in most of the regions were mostly unsuccessful, and the project resulted in the so-called "Luhansk and Donetsk People's Republics" ("LNR" and "DNR") which are battling the Ukrainian army with the help of Russia's military personnel and armor.
Read more: Meet the people behind Novorossiya's grassroots defeat
Vadim Gorshenin, owner of the Pravda.ru media holding
On 7 April 2016, Pravda.ru wrote that "Poroshenko gives away Kherson to be torn to pieces by the Turks," alleging that a Crimean Tatar autonomy is to be created on the territory of the southern Ukrainian Kherson Oblast, where a number of Crimean Tatars is residing after fleeing from the occupation and illegal annexation of Crimea. In fact, the document pravda.ru refers is fake. It was never been published by Ukraine's Presidential Administration and contains such gross errors as an outdated version of Emblem of Ukraine, as well as provisions that break articles 85 and 133 of Ukraine's Constitution.
Inciting inter-ethnic hatred is a long-tested strategy of propaganda to stimulate unrest and destabilization.
Aleksandr Potapov, former chief editor of LifeNews and Izvestiya; 16. Ashot Gabrelyanov, former executive director at News Media and CEO at LifeNews
On 22 July 2015, LifeNews reported about American weapons found in destroyed Luhansk Airport. As proof, a video from LNR Today YouTube channel was used. Stinger missiles from the video were marked with spelling mistakes: Tracking Rainer instead of Tracking Trainer, Re Usable instead of Reusable or Re-usable, Date Louded instead of Date Loaded. According to blogger Anton Logvinov, who writes about computer games, the inscription was forged based on the model of FIM-92 Stinger from the computer game Battlefield 3.
Vladislav Fronin, chief editor of Rossiyskaya Gazeta
On 9 December 2015, Rossiyskaya Gazeta published an interview with chief investigator of Russian Investigation Committee Aleksandr Bastrykin, in which the official claimed Arseniy Yatsenyuk took part in the First Chechen War against Russia. According to the official biography of Ukraine's former prime minister, in 1994-1995 he worked in a law company and was still a student at the Fedkovych Chernivtsi National University. Bastrykin's claim was never justified and the topic soon disappeared from Russian media.
Vitaliy Leybin, chief editor of the Rossiyskiy Reporter magazine
On 30 May 2016, Rossiyskiy Reporter published an interview with Russian so-called "prosecutor" of Crimea Nataliya Poklonskaya, who recently banned the Mejlis of the Crimean Tatar People, justified the "preventive arrests" of the Crimean Tatars on the eve of Victory Day, and was largely involved in Russia's illegal annexation of Crimea. In the interview she compared the Ukrainian yellow-blue ribbon to the Fascist swastika, claims that Andriy Parubiy (Chairman of the Verkhovna Rada of Ukraine) commanded Maidan protesters to shoot, and concludes: "Deep in my soul, I am Russia. Ukraine also was Russia, deep in the soul."
Sergey Mikhaylov, CEO of TASS information agency
On 29 May 2015, TASS published a report  with the heading "The USA Has No Confirmations that Russia Moves Troops to the Border with Ukraine." It was quoting a statement by US State Department spokesman Jeff Rathke during a regular briefing. In fact, Rathke said the opposite. "Russia maintains forces, of course, along its border with Ukraine, and the – there also is a large concentration of command and control equipment in Eastern Ukraine – air defense systems and so forth; all these things that we've talked about in recent weeks and months," the official then said. When asked specifically about a firing range in Kuzminsky, in the Rostov region, Rathke replied he had no specific comment. That quote was used by TASS's resonant headline.
Andrei Kunitsyn, head of NTV Directorate; Vladimir Kulistikov, former NTV CEO
On 20 April 2014, NTV showed a woman who allegedly resided in the city of Kramatorsk and was hiding from bombs in her basement. According to the report, Ukraine's National Guard opened deadly fire on the civilians of cities Kramatorsk and Mariupol. The woman was recognized by residents of Terpinnya village, Zaporizhzhia Oblast (300 km from Kramatorsk), as one of their own. Ukraine's ICTV journalists visited Ludmila Zhuromskaya pretending to be Russian journalists, and asked her to tell the story again. The woman answered: "I don't mind, but not now. Why? Because after the last coverage there was big trouble."
Fabricated reports of atrocities committed by the Ukrainian army are all too frequent on Russian media. One striking example is BBC's
report
from Donbas where a girl was reported to be killed by the Ukrainian army by a large number of Russian outlets. In reality, the story had no evidence and the journalists themselves admitted they were making it up.
Margarita Simonyan, chief editor of Russia Today (RT)
On 22 January 2015, militants from the "DNR" organized a "parade of prisoners" of the military personnel of Armed forces of Ukraine. Such treatment of POWs is forbidden, according to the Geneva Convention. A couple of "active citizens"  shouted and threw something at the POWs, with Russia Today's Graham Phillips filming "the angry crowd." In fact, the scene turned out to be a plot – the few "active citizens" were driven in specially to be filmed by the Russian media, and filmed at angles to make their number appear larger than they were.
Another example of a fabricated story on RT are comments of allegedly random pedestrians on the shelling of a bus stop in Donetsk. Journalists of the Public Television of Donbas found who they were. It turned out that the people were approved activists of DNR which "incidentally" happened to be passing by and expressed their vitriolic anti-Ukrainian opinions.
Russian TV needs to maintain the image of rabid anti-Ukrainian sentiments in occupied Donbas in order to keep asserting to its viewers that the war in Donbas is actually an internal conflict and denying the Russian involvement in the war.
Vladimir Sungorkin, chief editor and CEO of Komsomolskaya Pravda
On 26 May 2016 Komsomolskaya Pravda published an article with Nadiya Savchenko's quotes. It also cited a Twitter account  @NadiyaSavchenko, which, however, never belonged to the pilot. The quoted post said: "I can declare one thing now: I will not leave my habit of killing Russians!" Vira Savchenko has many times refuted allegations that the account belongs to her sister.
The Ukrainian military pilot Nadiya Savchenko was held on trial in Russia in a case that was internationally condemned as politically motivated and based on fabricated evidence. Russian propaganda outlets went into overdrive, trying to justify the trumped-up charges with which she was accused. After Savchenko was exchanged for two GRU officers, following immense international pressure, Russians were left
furious and confused
, trying to cope with the situation.
Oleg Dobrodeyev, VGTRK media (
All-Russia State Television and Radio Broadcasting Company) 

holding CEO

VGTRK is Russia's largest state media enterprise holding, which runs the majority of Russian TV media outlets. Of them, (arguably) the most notorious show known for its propaganda is the Vesti TV channel with its anchor Dmitry Kiselyov, who is the deputy CEO of VGTRK.

On 16 May 2016, Dmitry Kiselyov admitted that a 7-minute TV show was based on a fake document, following complaints by viewers that noticed discrepancies. In the show, Ukraine's current liberators of occupied Donbas were compared to the SS Division from Hitler times. The alleged SS officer's certificate was a fake, Kiselyov later admitted in "Vecher with Vladimir Solovyov" show (21:37). The journalist, however, didn't apologize for using a fake, claiming it only helped bringing attention to the serious issue.

In March 2014, Kiselyov included into a list of Russians that the EU sanctioned over the Ukrainian crisis, for being a "central figure of the government propaganda supporting the deployment of Russian forces in Ukraine" and is banned from entering EU territory. He is the only Russian sanctioned for spreading propaganda so far.

Kiselyov recently became famous in France. The TV channel Canal+ debunked a show that he anchored on Vesti, where street protests in France were explained as euroskeptics rioting against migrants. In fact, the protests caused by new labor laws and had nothing to do with euroskepticism.

Destabilization of the EU is one of the Kremlin's strategies outside of Ukraine, and the inflated role of euroskeptic attitudes in its media reports is essential for it.
Anton Zlatopolskiy, CEO of Russia 1
On 12 May 2016 before the second Eurovision semifinal, Russia 1 channel made an introduction to Jamala's song 1944. The commentator interpreted the song as "a prayer for fates of the people, who willingly or unwillingly leave own house searching for a better life." Jamala has many times explained that her song was about Stalin's deportation of Crimean Tatars in 1944.
Denying the crimes of Stalinism is part of Russia's modern strategy of weaponizing national memory and exploiting nostalgia for the USSR to boost support for a strong military leader.
---
Related:
Tags: freedom of speech, Russia