During last couple of years Kyiv streets have been going through a drastic makeover. Huge and colorful murals covered grey concrete walls of Soviet style buildings adding even more Western spirit to an emerging capital of Eastern Europe.
Street artists from all over the world, from Portugal to Australia, have left their footprints on the walls of never aging, over 10 centuries old Kyiv.  Ukrainian artists have made some impressive works as well.
1. Peremohy Prospect 114/2. Author Kenor Martinez Vanbergen, Barcelona
This Spanish artist works in the style of geometric abstractionism. His works can be seen in Paris, Lodz, Dresden, and other European cities.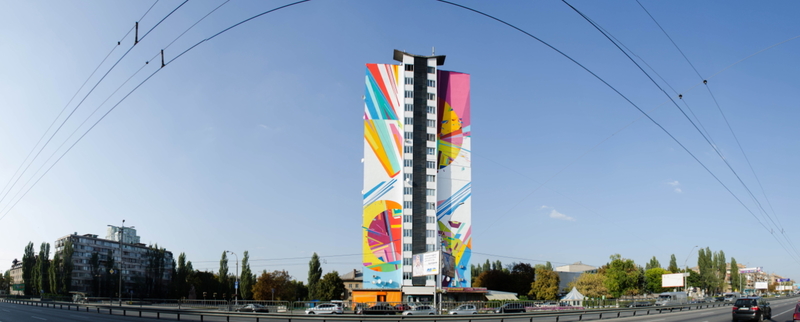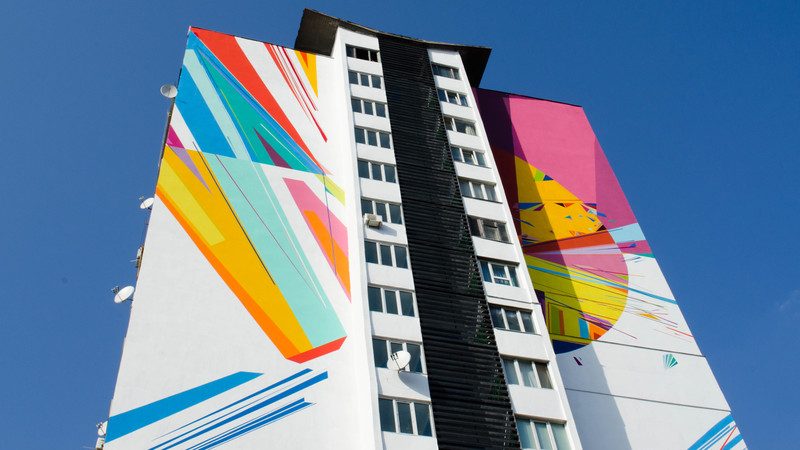 2. Peremohy Prospect 95. Author Pantonio from Portugal
Another 16-storey building on the same street was decorated by Portugal artist known for his widescale frescoes picturing fantastic creatures. Last year Pantonio broke the record by making the biggest mural in Europe. In Paris the artist drew a fish tornado on a 66m tall, 15m wide wall.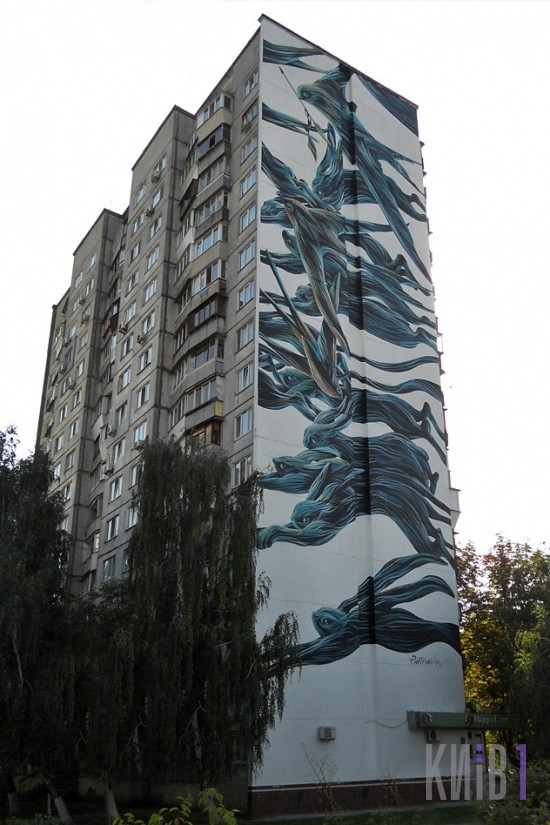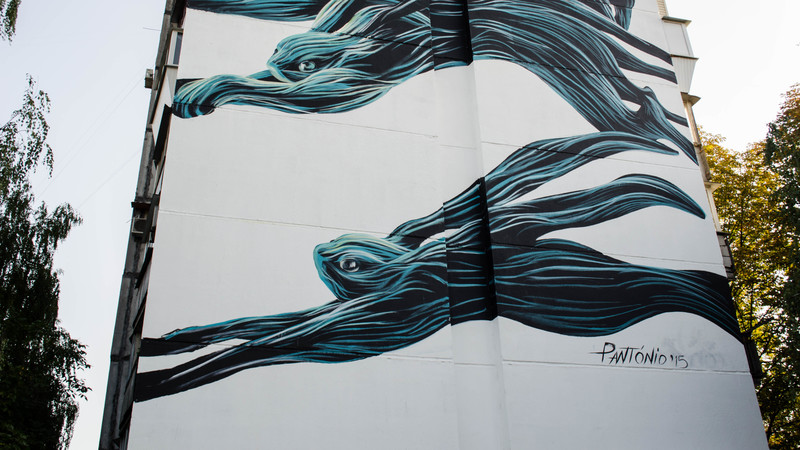 3. Honchara 3-6 Street, "Time of Change" by Interesni Kazki art duo from Ukraine
During the autumn of 2014, the Ukrainian artists Volodymyr Manzhos and Oleksiy Bordusov created this mural by their own costs. An ancient Ukrainian warrior, a kozak, is defeating a dragon that observers claim looks like Putin.




4. Vul. Striletska 28, Lesya Ukrainka portrait by Australian artist Guido van Helten
Van Helten created Lesya Ukrainka's portrait inspired by her poem "May-lily". Lesya Ukrainka is one of the most known and prominent poets of Ukraine. Van Helten's flight was paid by the philantropists while his work was done pro bono, as a present to the city.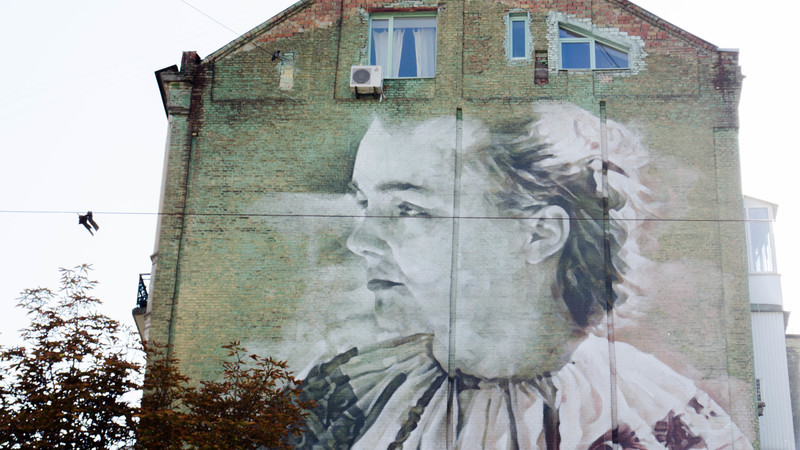 5.  Vul. Mykhaylivska 24-26, Serhiy Nigoyan's portrait by Portugal artist Vhils
Nigoyan was the first activist to be killed during the Euromaidan Protests in Kyiv in 2014. Alexandre Farto (Vhils) has been following Ukrainian events and sympathising the victims, that's why he happily agreed to make an art piece. Unlike other artists, Farto covers walls with plaster and then removes it with perforator and drill.



6. Vul. Tupoleva 15, mural by Kickit Art Studio from Lviv
This piece of street art appeared on the district heating substantion in one of the backyards of Kyiv apartment block. Kickit's works can be found all around the country, from Pidzamche in the West to Slavyansk in the East. Not as widescale as other works, this mural very well proves street art is capable of transforming even the most unattractive objects of the city.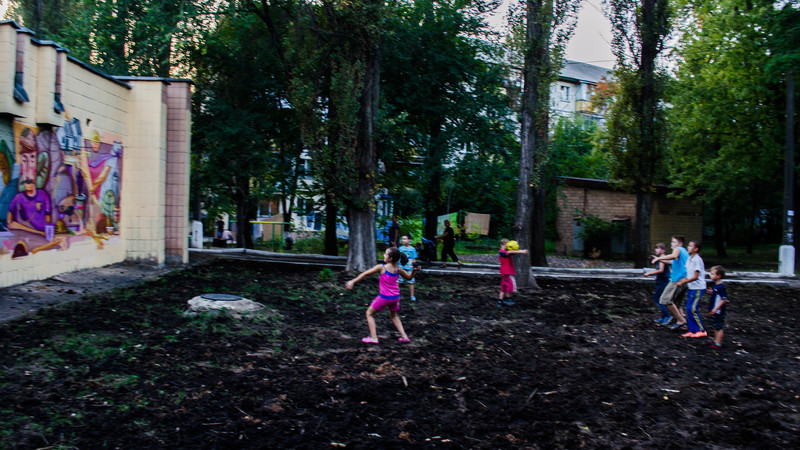 7. Vul. Tupoleva 7B by Zosen from Spain
Zosen's fantastic animals and mythical creatures were inspired by the works of a prominent Ukrainian artist Mariya Pryimachenko. Spanish street artist is known for geometry and neon colors accompanied by fantastic creatures. His other artistic footprints can be traced in Wroclaw, Barcelona, Tokyo and cities of Italy and the US.



8. Vul. Starovokzalna 12, mural by Ukrainian team Kailas-V
Team of Ukrainian artists painted a portrait of a famous Ukrainian leader, hetman Pavlo Skoropadsky. Kailas-V members state, that the decisive moments of Skoropadsky life, as well as Ukraine's history, were taking place in this location. The team also promised to bring more historical figure on the streets of Kyiv.





9. Vernadskoho 87 Boulevard, author Okuda from Spain
One of Okuda's favorite motives are relationships between humans and nature. His style is called pop-surreslism with elements of street art. He is also known for participating in the Streets of Colour project which allowed decorating streets of London, Madrid, Brussels, Oslo, and other cites.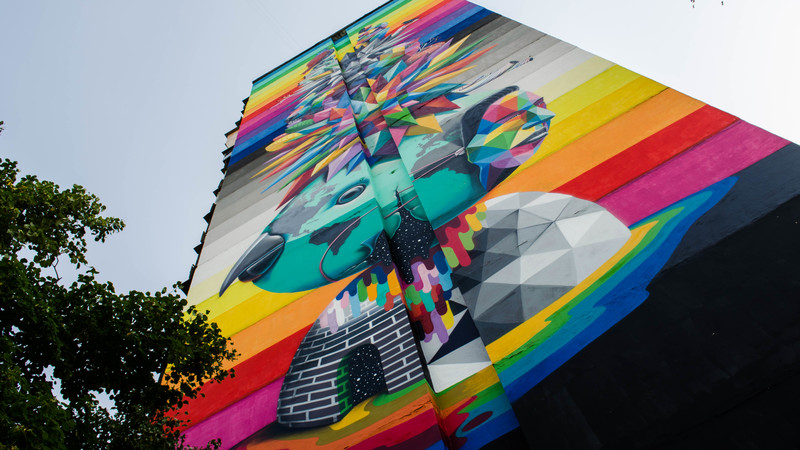 10. Vul. Sichovykh Striltsiv 75 by Kailas-V from Ukraine
This is the biggest portrait of Mykhailo Hrushevsky, one of the most prominent Ukrainian historians, civic, and political figures. It takes up 160 sq. m. and was created with 150 different aerosol cans. The work on the painting lasted 7 days. Kailas-V emphasized that the mural was to commemorate Hrushevsky's 150th anniversary.


The list is far from over, especially knowing that in spring 2016 street artists have plans for transforming appearance of many, many more Kyiv walls. To stay tuned, check out this interactive map of Kyiv murals.