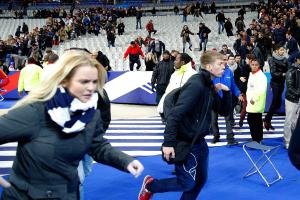 I trust that France will now follow the advice it has given Ukraine. That it will begin negotiations with the terrorists ( preferably somewhere in Great Britain), that it will offer them territory in the Alps, elections, amnesty. That would be so European.
Personally I condemn all manifestations of terrorism, extremism, violence, swearing, and loud (Sergey) Shnurov music (Russian ska-punk musician — Ed.)
However, it is important to avoid taking any extreme action. Isis must be heard!
I propose that President Hollande should sit at the negotiating table with the fighters, even though it would be more ethical to call them militias. Britain could be the third party in the negotiations.
It is important to avoid inciting further conflict. Otherwise, the responsibility for additional victims may well rest with the French government.
At present, we cannot confirm this was any specific aggression. More likely this was civil war on the territory of Paris, where ignored segments of the population are attempting to make themselves heard by the government.
I think it might even be a good idea to give Paris special status and to hold special elections there immediately.
Afterwards, negotiations could be held regarding a simplified visa policy for French citizens visiting the Carpathian mountains. If the conflict intensifies, Ukraine will be ready to provide aid to France in the form of 200 rubber bullet firearms and a trainer in combat dancing.