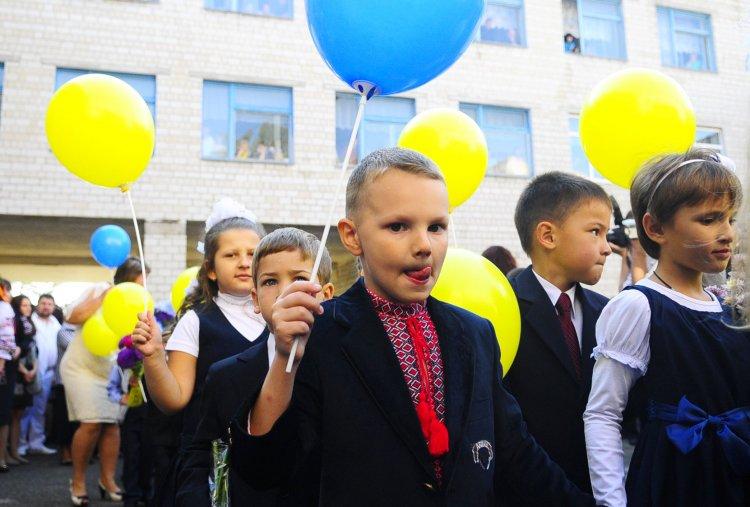 Photo: UNIAN 
With the wrong approach, lessons in patriotism can deprive children of the ability to think critically. There is a serious risk that teaching patriotism in schools may provoke the opposite effect.
Peace lessons in the country's elementary schools have been replaced by lessons of love for Ukraine. However, there is a risk that nurturing patriotic feelings in children could transform into rabid jingoism. 
For a long time the first lesson of each new academic year in Ukraine's elementary schools has been a lesson of peace. Now the Ministry of Education and Science recommends starting the new academic year (as of September 1) with lessons in patriotism. Such lessons, according to the Ministry, will further goals established earlier this year of promoting the national-patriotic education of children and youth.  Although these ideas have been debated from time to time, patriotic education has never been consistently implemented in Ukrainian schools. But now, more than ever, it is necessary to start raising school children to become patriots, to inculcate loyalty to the country, to promote the common good, to interest young people for military service, and to include patriotic education in the schools. Nevertheless, the path toward these goals is less than clear.
One of the most controversial examples of the current trend in patriotic education is the "course of the young patriot". 
The creators of this guide believe that nurturing separatism could commence at a very young age. They concluded that a child who laughs at others, does not clean his or her room, disobeys parents, spends hours sitting at a computer but shows no sympathy for those in need should be stigmatized. On the other hand, the "course" describes a 'smart' patriot as someone who cares about the weak and the poor, does well at school, and in general undertakes all his actions like in the already forgotten Soviet image of the "pioneer is an example to all the kids." In the black-and-white framework of the "course" the child has no right to make mistakes:  if he/she quarrels with parents, gets a bad grade, or does not wash his/her face, he is immediately sent to the camp of losers. Even the titles of the sections do not give room for maneuver: among the "friends" of a patriot are such qualities as honesty, generosity, self-criticism, patience, optimism and love to peace; among his "enemies" are laziness, impatience, envy, pessimism and even quite innocuous uncertainty. The creators of the manual proclaim that the study guide (worth more than 300 grivnas) is a valuable helper in children's education that can forge a "person with persistent moral character, strong body, a strong mind and a sensitive soul."
Among the "course" reviewers are professionals with doctorates in philosophy, education and psychology. It appearsd that they, like the authors, have been infected bya form of pseudo patriotism because they believe that a child with a vacuum cleaner in his hands is a patriot, but a studentsitting idly is a loser and should be an outcast. However, the Ministry of Education did not appreciate this direction. After social networking media ridiculed the manual, Education Minister Sergei Kvit hastened to disown the "course" and said that the manual was approved by the Institute of innovative technologies, which evaluated the manual back in 2014. The Institute has since been eliminated, the minister said.
There is little doubt that nurturing patriotism in Ukraine's children is, in many ways, a more important task than ever. But there is a danger that yet another good idea may turn into a beuraucratic maze of instructions, manuals, and guides. And among those who must teach patriotism, there are many different personalities. Here's an example: at the end of the last school year, a student at one of Kyiv high schools told me that her teacher spoke very negatively about the events in the center of Kyiv in the winter of 2014, apparently trying to fighten the students into thinking they might become "slaves" of the new government. Perhaps loveof country is the last thing such a teacher is qualified to teach.
Perhaps our governmental officials and patriots should look into what is happening to Ukraine's northern neighbor, where there are plenty of heirs of the Soviet education system who drum into the heads of students the convenient-for-government notion of love for the motherland. One of the zealous fighters for this is the deputy of the Legislative Assembly of St. Petersburg, Vitaly Milonov, who recommends the creation of a new patriotic organization called "Dobrodel" ('well maker') or "Union of St. George", which will be mandatory for all children over six years old. Milonov's "Dobrodely", in theory, would be engaged in community service, hobby clubs, and the nurturing of patriotism in the country's youth.
In Russia, discussions on how to best educate youth have been going on for years. Recently, the Ministry of Culture of the Russian Federation has turned to Russian animators to create patriotic video games.  In addition, the Russian military-historical society (RVIO) has decided that it's time to create new patriotic media via the internet, radio and TV. The Minister of Culture, Vladimir Medinsky, is one of the main lobbyists of patriotic education. He and his colleagues assert: "We cannot sleep for the young."  They are constantly talking about the creation of a "patriotic trend in the public consciousness."  RVIO made a very strong statement: "A new blitzkrieg against us and therefore against the truth has begun" and thus justified the need to "go to the ideological offensive on all fronts in this war for minds." RVIO has lined up plenty of projects and they seem to be gaining momentum. For example, Russia currently sponsors 15 military-patriotic camps and and, in 2016, it plans to open in occupied Crimea several of these facilities, designed for thousands of children. Medinsky's vision of the curriculae of patriotic camps for teenagers and young adults is very similar to the curriculum of the Hitler Youth Member's camp. Both of them include war games, propaganda marches, field trips and hikes. The Hitler Youth organization's textbooks, as well as Medinsky's manuals, contain too many texts on the revival of the nation, a holy duty to the homeland and its friends. The members of the Hitler Youth organization also were purposefully engaged in ideologically correct classes. "I'll tell you what should be the children's camp," said Russian Minister Medinsky. – The child must be waked up at seven in the morning, and then during 12 hours be engaged in something useful. In our case it will be sports, military training classes, classes on military history and literature, and lessons on the history of his native land. In the evening, an appropriate movie should be watched. "On patriotic projects, just this year RVIO received nearly $ 5 million.
There is a risk that patriotic education in Ukraine may soon enter into a similar pseudo-patriotic track. The creators of the corresponding manuals seem unaware that pride in country does not always need to be ground into a child's head—especialy if it cuts off his or her ability to think logically and sensibly. In addition, forced patriotism may actually have the opposite of the intended effect: idle talk and too harsh an assessment of children's misbehavior, based on official manuals of conduct, may become hypocritical in a country where no single "friend" of any top official was put to jail, where corruption rose to the highest level, and where impunity from punishment for corrupt activities has become all too common.
Tags: International