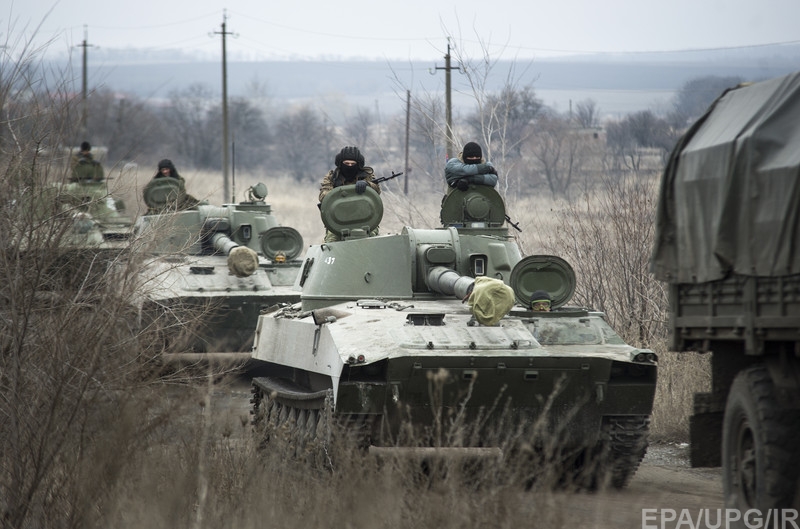 The armed forces of the self-proclaimed "Luhansk and Donetsk People's Republics" ("LNR" and "DNR") have accumulated significant reserves of heavy weapons. According to deputy commander of the Anti-Terrorist Operation, Col. Valentyn Fedychev, as of 8 April 2015 Russia's hybrid army in Donbas has 700 tanks, over 1 100 ACVs, 600 artillery systems, and 380 MRLS, as reported by news.liga.net.
Inforesist.org compared the military power of "LNR" and "DNR" to that of several European NATO states on the basis of the annual report, The Military Balance 2014, prepared by the British International Institute for Strategic Studies (IISS) think-tank. The Military Balance 2014 is a kind of reference book containing detailed data on the types and number of troops of the armies of the world as of 2013.
According to the IISS data, the tank fleet of the Russian-backed separatist "republics" is comparable to the total number of tanks in service with the armies of Germany, France and the Czech Republic. Poland boasts a more impressive fleet (893 tanks). As for artillery power, the volume of arms of the "DNR" and "LNR" surpasses all the Baltic countries together, as well as the German, French, and Czech armies. European NATO members, excluding the Czech Republic and the Baltic states, have an advantage over the separatists only in the number of combat armored vehicles. The French army's fleet of armored vehicles is five times greater than that of the "DNR" and "LNR."
An estimate of number of Ukrainian military vehicles opposing the "LNR" and "DNR" forces has been given by Aleksandr Sharkovskiy in an article in Nezavisimoye Voyennoye Obozreniye [Independent Military review] on 22 May 2015, who has stated that his estimates are based on open-source data of the blogosphere.

Sources:
NATO countries: The Military Balance 2014 report by the International Institute for Strategic Studies (IISS)
DNR/LNR: Data from ATO briefing, 8 April 2015
Ukrainian ATO forces: Data from Nezavisimoye Voyennoye Obozreniye, 22 May 2015
It is difficult to estimate how much the proportion of power has changed over the last months, as there are conflicting messages. The latest data is that new shipments of military vehicles for the Russian-backed forces and Russian army in Donbas have arrived via the Russian railroad. Dmitry Tymchuk, independent Ukrainian military analyst and coordinator of the group Information resistance, in a post dating 24 May 2015 has stated that at the beginning of May the Russian Railway has transferred 80 MRLS (including Tornados), over 200 tanks, around 100 IFVs and APCs, and nearly 1000 lorries with ammunition to Donbas.
The Russian Federation continues denying its support for the separatists in Ukraine's Donbas. However, the USA has recently changed its terminology, referring to the forces opposing the Ukrainian army to Donbas as "combined Russian-separatist forces."
Tags: Donbas, Military analysis, NATO, Russian invasion, tanks