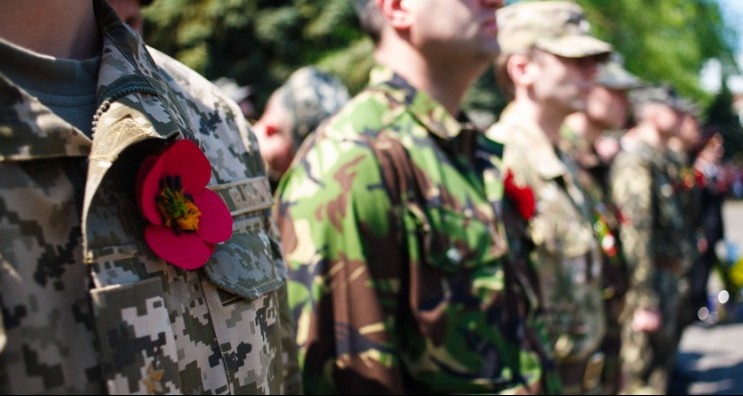 Ukrainian soldiers wear remembrance poppies on Ukraines first celebration of Day of Remembrance on May 8 
Things in Kyiv feel tense tonight. Today was "war memory day" – the first time that Ukraine has officially observed "VE Day" with the rest of Europe, rather than celebrating "Victory Day" with Russia. Clearly the change of date, and of emphasis in official discourse will not be enough to change entrenched beliefs and long-standing convictions as to the "righteous narrative" of the War. However,the monumental commemorative event staged at the War Memorial in Kyiv (and broadcast live by all of Ukraine's television channels) will plant the seeds of a new unifying narrative for Ukrainians around the world – including those who served in the Red Army, the UPA, and in multiple other armies. Whether Ukraine's new official interpretation of history will gain mass acceptance is a topic for others to tackle – those who study the politics of memory. Hopefully they will approach the issue with more academic distance than I am able to muster…
But the apprehension that fills the air in Kyiv this weekend has little to do with historical debates. Interpreting events of 70-75 years ago is an important academic and political endeavor, but the current war in Ukraine overshadows the past.
Tonight, many in Kyiv (officials and private citizens), fear escalation of the war in the Donbas is imminent. During the past few days, President Poroshenko has stated that up to 90 000 Russian troops (including irregulars and "separatists") have massed along Ukraine's borders; the US Ambassador has stated that Russian anti-aircraft missile batteries have been deployed on occupied Ukrainian territory in the Donbas; Russian troop movements in Crimea have been widely reported with columns of heavy equipment apparently moving north towards Kherson oblast; the leadership of the "Donetsk People's Republic" has promised a grand military parade in Donetsk complete with tanks, multiple rocket launch systems, and heavy artillery; shelling along the line of contact in the Donbas has increased dramatically during the past few days – multiple Ukrainian casualties have been reported daily since early May, after several weeks of relative quiet (since mid-February).
Ukraine's authorities have warned of possible terrorist attacks in major cities tomorrow. Apparently several planned bombings have already been thwarted by the SBU (State Security Service) in Kyiv and Odesa.  Terrorist groups have been apprehended in Kharkiv. Ukrainian Armed Forces spokesperson Andriy Lysenko has warned of planned provocations by the Russian side on May 9: according to intercepted information, plans are afoot to bomb the DNR's military parade in Donetsk, and to blame the Ukrainian side for the resultant mass deaths.
Personally, as callous as this may sound, I am less concerned with terrorist attacks on Ukrainian territory than I am alarmed by the prospect of a staged attack in Moscow tomorrow.  Putin's window of opportunity to grab more Ukrainian territory is quickly closing (as I have stated before, he needs a land bridge to Crimea before summer), and the façade of "hybrid war" will clearly not be believed by the international community this time. He has few options beyond open war, and a staged attack by supposedly "fascist Ukrainian terrorists" on the grand military parade to be held on Red Square on the 70th anniversary of "Victory Day" would provide an ideal pretext for open attack. Certainly, the Russian public would support their President in his quest for "vengeance" – even if little credible evidence of a Ukrainian trace is actually presented. The Bush Jr. Iraq playbook could be used for this.
And how would the West react? With "grave concern" I suspect…
During the past year I have gained a reputation for making false predictions, so the above should not be interpreted as such. If this scenario does play out in Moscow tomorrow, just remember that Putin's staged provocation was predicted, and that it's supposedly "Ukrainian origin" is a complete fabrication. Perhaps this post will serve as some evidence to those who would doubt whether to support Ukraine in its hour of need; whether Ukraine's border truly does represent the border of civilized Europe; whether Putin's incursion is a threat to the world, and whether others have any interests here…
And if the next Great War does not start tomorrow (as I pray it does not), then we will have looked into the abyss and stepped away. Ukraine's eastern border will remain a smoldering conflict, but the country as a whole will develop rapidly. Our model will be Israel: vibrant multi-year economic growth amid internal political turbulence, and constant existential threat from an aggressive external enemy. That's the optimistic scenario…
Tomorrow, Ukraine's Maidan revolution (and the counter-revolution staged in its aftermath by Putin) ends. Tomorrow we either descend into (global?) war, or we continue to crawl towards a semblance of European normality. As it was 76 years ago, the choice will be made by a small man in a distant capital…
God help us!
Mychailo Wynnyckyj PhD
Kyiv-Mohyla Academy
Tags: Op-ed