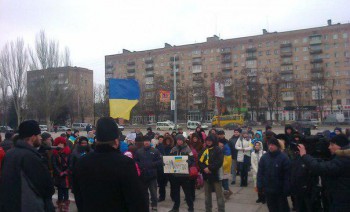 An appeal of Mariupol civilians has appeared on the website stop-russia.org in which they ask world leaders and everybody not indifferent to recognize the "DNR" and "LNR" as terrorist organizations and Russia as a sponsor of terrorism and to protect Ukraine against Russian military aggression.
"We are being killed. We are killed every day. We are killed while waiting for the bus and while being in it, in the shops, in schools, kindergartens, private apartments. We are killed even when we are in the cemetery taking leave of those killed earlier."
They say that the war in Ukraine was organized by Russia and that that during 23 years of Ukrainian independence there were no nationality, language or religious conflicts on our land, and no conditions for civil confrontation.
"The war going on practically in the centre of Europe was organized by Russia against all norms of international law and fundamental principles of morality. We are killed by professional army of Russia and by hired terrorists of so-called "People's" Republics armed and financed by the government of Russia."
The appeal's authors ask world leaders and everybody that cares about peace in Europe:
to recognize the so-called quasi-formations «DNR» and «LNR» as TERRORISTIC ORGANIZATIONS, and the RUSSIAN FEDERATION as aggressor and sponsor of terrorism;
to proceed with the international negotiations and to  bind the Russian Federation to close the border with Ukraine and  to call away  their troops and arms from the territory of Ukraine; In order to fulfill this solution it is necessary to enable the access of the International Military Monitoring Mission to the territory of Russia;
to forbid entry into the territory of Ukraine of the so-called «Humanity Convoys» from Russia without the control of the International Red Cross, the Ukrainian Border Guard and customs services;
to qualify the terroristic attacks to Ukraine, the fact of the inhuman treatment to the citizens of Ukraine as the crimes against mankind and to bring those who organized and executed these crimes  to the International Court;
to ensure the territorial integrity of Ukraine and to create the effective mechanism of its  protection against the military aggression of Russia.
Anybody can sign the appeal on stop-russia.org. A translation of the form is below:
On January 24, Mariupol fell under a missile attack of the Russian-terrorist forces. At present, the casualty toll of the attack is 31 civilians.
When Mariupol was under threat of being occupied by Russian forces in August 2014, Mariupol had appealed to EU citizens, asking to show solidarity with them as they stood against Putin's aggression.
Featured image: Mariupol residents rally after the missile attack of 24 January 2015
Tags: International, Mariupol, Politics, Russian invasion