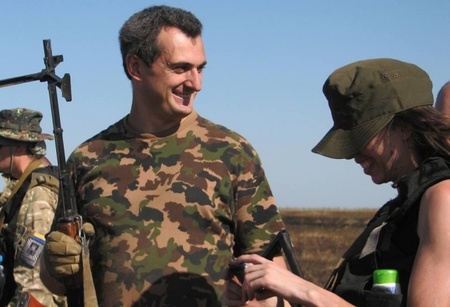 by Tetiana Chornovol
In Boryspil at 12:00. In the chapel near the grave of (Pavlo) Chubynskyi (author of our national anthem). Mykola sang it so well, so sincerely. He believed in those words with all his heart.
He was the real thing. He was not a Facebook soldier. He did not think of PR or of a political career. He simply fought for Ukraine, for his land. After all, he was born and lived most of his life in the Donbas. He dreamed of liberating his native Horlivka from the separatists and the Muscovites.
He did not consider this simply the duty of every real man; he believed that this kind of chance is granted once in a thousand years, that his generation is making the CHOICE if Ukraine exists or not.
FREEDOM or death — we made that choice on Maidan. UKRAINE or death — in war with Russia.
He believed that if a critical mass of Ukrainians– and every individual — made the right choice, then no matter what happens, no matter how high the price, Ukraine will ultimately win. From an amorphous  mass that has somehow held together, a real Ukraine will finally emerge. A country where patriotism, service to one's country and dignity will be the norm. Where the people who want to be useful to their country will not be mocked as fools. (Although the moral and mental cripples are laughing. Because without our own country, Ukrainians were always "cattle for slaughter.") …
Mykola and I were of the same mind. He supported me even when I had to risk my own life. He was someone who believed that all sacrifice was possible for the sake of the country.
And this was despite the fact that he loved me deeply throughout the 12 years of our life together. How happy he was when I survived the attempted assassination. How he followed me on Maidan, like a shadow. He never stopped me, but how he feared for me. I knew he had decided that if death were to come, he would die first.
I knew how he suffered. After Maidan, my life became so terrible — there was no time, no opportunity or strength to apologize, to embrace. I feel so guilty.
He died because this is war. He died because he was bright and genuine. Under sniper fire, he rushed to pull out the wounded "Svitliak" (Andriy Dryomin — Ed.). He took his duties as commander personally; he believed he was responsible for everyone. And it was Roman ("Sokil"), assuming the responsibilities of commander, who began to pull out my Mykola. Sokil pulled him by his legs and was shot in the stomach. He is fighting for his life. This is our platoon. They have the best!
I was in it as well. Svitliak taught me how to clean my machine gun. I also cleaned Mykola's  gun. Everyone laughed. But I wanted to be useful somehow. Because I understood that the presence of a loved one is a burden for the commander. I promised to stay behind, as in Mariupol.
I could not be with him, with them. I escaped from Kyiv, from the government, whenever there was the slightest opportunity. We were of the same blood. It was only among them that I felt complete. They were like family. They were the best, because when a person chooses to sacrifice himself for his country, the best human qualities appear; the shameful characteristics take second place. In government, it is the opposite. I was not near him when he died. I realized that he was at war and that he could die, but I prayed  so hard that if that happened I would be near. Now I wonder: could I have helped? We were each other's guardian angels. I rescued him in Cherkassy (at the time of Maidan). He rescued me on February 19.
Maybe I could have helped. He was wounded in the leg, and he bled to death, far from me, a thousand miles away. And he even said goodbye. I did not…
At 5:00 in the morning he sent me a text message: "Storming Ilovaisk. Losing the connection, so don't worry. I love you."
I read it only in the morning. I answered. "I love you very much. Hold on." And then I looked, and there was another message. That he had died. It turns out I was already writing to a dead man.
I rushed  to Urzuf, to that Yanukovych dacha that we had seized together back in May. It became the base for the Azov battalion. And it became our home. I ran to the room where our platoon lives. His belongings, neatly stacked …
He was so neat, so smart, so competent. He always checked my texts for errors. He always had problems settling in a job because of my journalistic work.
I did not even call him the previous night. I was exhausted and angry. I had decided not to call him. That day I went to Koncha-Zaspa and learned that the enemy of Ukraine Yuriy Ivaniushchenko continued to build a "New Mezhyhiria " in Koncha-Zaspa, for which they almost killed me in December.
Imagine, a "New Mezhyhiria " being built now !!!! And it is this Yuriy Ivaniushchenko, who organized death squads, who set the separatist wheel in motion in the Donbas. He continues to build mansions, and my husband has died …
But it is not in vain, not in vain, not in vain !!!! Our Ukraine is and will be !!! His sacrifice and his blood will set an example. They will be an inspiration for the best. Because of his blood and the blood of others who made their CHOICE and took the road to the END, Ukraine will win now. It will prevail in the future as well (the same way our independence rose up on the blood of the soldiers of UPA). He belonged to those cells of Ukraine's body who fight not only for the survival of direct descendants but for the future of the entire people.  For the future, which will be inhabited not only by worthy Ukrainians but by vile users of life, the torturers and the thieves (those who rob the country while others are dying for it will always exist, that is a fact of life).
However, our goal is to offer a chance for the worthy. Because all this has not been in vain. Heroes do not live in vain. Heroism and self-sacrifice are not in vain. Never. Not under any circumstances. (And what could be more vain and more abominable than a life lived for toilets, even if it's a gold toilet in Mezhyhiria or in Monaco.
My Mykola !!! My darling sun!!! (he called me а "little weasel" and the children — it was so funny –"little chebureks" (Tatar pastry — Ed.). I don't know how I will continue … Forgive me. I love you.
Note: Tetiana Chornovol , a Ukrainian investigative journalist and civic activist, is government commissioner for anti-corruption policy and was one of the leaders of the Euromaidan protests earlier this year. She investigated the massive corruption under former President Viktor Yanukovych and was badly beaten by hired thugs in December 2013. Her husband, Mykola Berezovyi, a volunteer in the Azov battalion, was killed in the anti-terror operation (ATO) in eastern Ukraine on August 8.
Translated by Anna Mostovych
Pravda