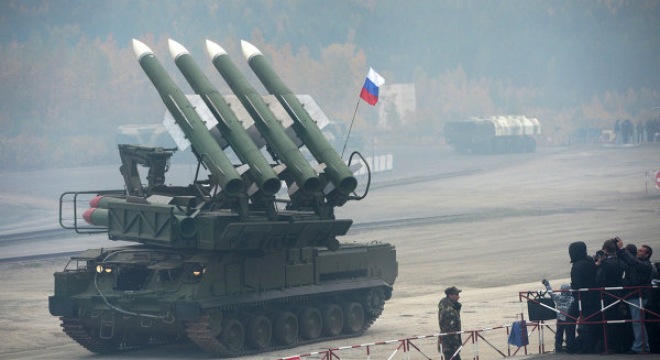 Map of the area
CNN map of Hrabove
Following today's tragic news that a Malaysian airliner carrying 295 passengers had crashed in eastern Ukraine, Interior Ministry advisor Anton Herashchenko stated that the plane was in fact hit by a Buk surface-to-air missile (SAM) launcher. Buk SAM systems can fire missiles up to an altitude of 22,000 meters (72,000 feet).
Reports indicate that the plane has crashed in the town of Hrabove, Donetsk region, which is near the occupied towns of Snizhne and city of Torez. Both locales are roughly 20km from the crash site in Hrabove.
Do Russian insurgents have access to these missile systems?
Security and Defense Council spokesperson Andriy Lysenko informed that near Snizhne a Buk SAM was seen not belonging to the Ukrainian army. The presence of a Buk-type SAM in the town was verified by Associated Press journalists earlier Thursday.
Russian terrorist Igor "Strelkov" Girkin admitted that they had shot down a plane today over the city of Torez, but have claimed it to be a similarly large Antonov An-26 transport aircraft.
"In the vicinity of Torez, we just downed a plane, an AN-26. It is lying somewhere in the Progress Mine. We have issued warnings not to fly in our airspace. We have video confirming. The bird fell on a waste heap. Residential areas were not hit. Civilians were not injured," he was quoted.
While Girkin issued a statement saying that they shot down the "transport aircraft," he later denied having weaponry to take down the Boeing 777 at that altitude.
Despite denials to the contrary, on June 29 press service representatives of Girkin's "Donetsk People's Republic" organization told Russia's ITAR-TASS that they had "taken control" of multiple Buk missile defense systems.
The US Department of State has said this week that more advanced air defense systems are beginning to arrive to deployment sites which have then been transferring equipment from Russia to its proxies in Ukraine. Also, the DoS notes that Russian insurgents have been actively looking to recruit volunteers with experience operating heavy weapons such as air defenses.
Taken together, it appears abundantly clear that insurgents have access to, and use Buk SAMs and have openly admitted to engaging aircraft with them.
Follow @MatBabiak
Tags: Donetsk, Featured, Igor Girkin "Strelkov", News