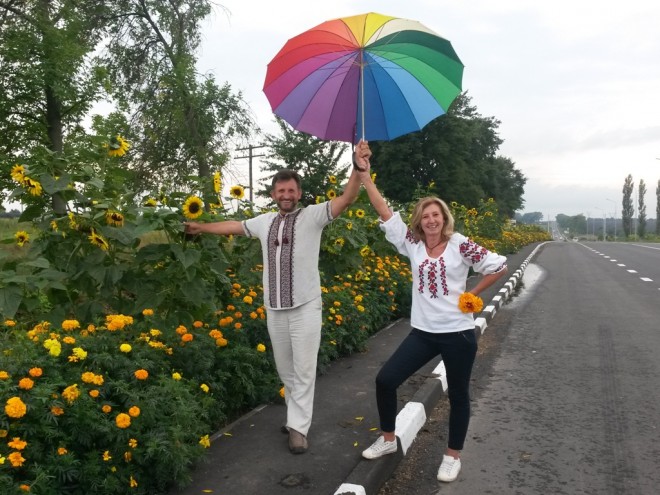 Volyn sculptor, Honoured Art Worker of Ukraine, Chairman of the charitable organization "The Blooming Flag of Ukraine", Vasyl Ryzhuk spends most of his spare time working with flowers.
However, he tends his flowers not in municipal flower beds, but along major highways, where he's planted over 400 km of beautiful decorative sunflowers and bright yellow marigolds.
FROM SPRING TO WINTER – WITH HOE AND PICKAXE IN HANDS
In spring, Vasyl sets out early in the morning, swinging his pick-axe to dig up the rocky soil, sometimes cluttered with remnants of concrete and asphalt. He removes bushes and shrubs, clearing the area for his sunflowers and marigolds. In summer, he transports tons of water to irrigate the soil, and weeds every day. In autumn, he removes all the faded flowers from the roadside, placing the seeds carefully in large bags. Vasyl creates everything with his own hands and at his own expense.
"Many people were very skeptical when I started out… "It's impossible to grow anything there!" But, marigolds are simple flowers to cultivate, so I told them: "Listen, you're wrong. But, flowers must be tended, watered and cared for with your heart and soul, otherwise they won't grow!"
It's not at all surprising that the winner of the "Man of the Year in Volyn Oblast" and triple laureate of the "Book of Records of Ukraine" has been named "Василь-Чорнобривець" (Marigold Vasyl). And, when Vasyl planted sunflowers among the marigolds, people started calling him "Василь- Cонячний Чорнобривець" (Vasyl – the Sunny Marigold Man).
"When you plant flowers, you can't see them right away because the weeds take over first. But, if you work your garden every day, water the soil and remove the weeds, the weeds will disappear, and you'll soon see your flowers growing and blooming. It's the same in real life: the weeds are the first to appear, destroying the cream of the nation's crop! By helping and supporting our talented people, the weeds will disappear in time."
CREATING A BLOOMING ROADSIDE TRIBUTE TO UKRAINE
Vasyl selects the best varieties of marigold that grow tall and lush. The sunflowers are a decorative species, quite different from field sunflowers.
The bright yellow sunflowers add incredible beauty to the roadsides. Some grow as high as four meters. The flowers look particularly beautiful in the evening, glowing in the dim light of the street lamps.
"At dawn, when the sky is blue, the sunflowers and marigolds positively gleam in the bright morning light – then we're able to see the natural flag of Ukraine: the blue sky above, and the hot yellow carpet of flowers below! That's why I've called my project "The Blooming Flag of Ukraine."
Vasyl initiated his idea during the Maidan. In 2014, he hung his floral flag on the Christmas tree in central Kyiv with a sign saying: "If we want our Ukraine to bloom and blossom, embrace one another, my dear brothers, I pray you, I beg you!" Since then, the blooming flag has become the flagship of all the sculptor's projects.
"I also distributed sunflower and marigold seeds to all the regional organizations on the Maidan. Honestly, if the state gave me permission and a little money, I'm sure I could decorate all the major Ukrainian highways with beautiful flowers."
IT'S SO MUCH EASIER TO DECORATE VILLAGES AND TOWNS TOGETHER!
"People are usually surprised and ask me why I plant these flowers, why I spend my money, why I waste my time and energy. They tell me to plant onions and garlic, which would bring in much more money. But, I've never regretted starting this job. When I look at this beautiful roadside, at my beaming, smiling flowers, my soul is at rest… and that's the best reward I can ever get!"
Many villagers have observed Vasyl at work, and his inspiration and energy have become contagious. At the beginning of summer, as Vasyl and his assistant Olena stood on the roadside hacking away at the dirt and concrete near the village of Charukiv, Volyn Oblast, a woman approached them cautiously.
"She asked us who we were and what we were doing here. I told her we were volunteers, that we were preparing the ground for our flowers. She was very surprised, but wanted to help. It turned out that she was the local village head, Zhanna. She was great! Next day, she delivered a load of soil and helped us prepare the area."
Vasyl is happy that he's no longer alone. Villagers from the neighbouring village of Horodyshche, together with the head of the local village council, Svitlana, came out to help. Locals in the village of Tereshkivka local even helped plant and arrange flower beds near the bus stop. Truck drivers and marshrutka drivers often pick up volunteers helping Vasyl and deliver them to the work area. Some bring bags of seeds, others arrive with heavy containers to water the flowers.
Two women are standing at the bus stop on the highway to Lviv, near the village of Horodishche. They look on in awe and disbelief as Vasyl works by the roadside:
"Did you really plant everything yourself?  And here we thought it was all done by a seed drill! There's no doubt about it… Vasyl's a saint, and only a saint can create such beauty! When you go by in a bus – whether it's the local one or the one going to Sokal or Chervonohrad – everyone admires and marvels at all the flowers. Somehow, life becomes brighter and happier," says Tetiana, a resident of the village of Uhryniv.
PEOPLE ARE GRATEFUL, BUT THE AUTHORITIES TAKE NO NOTICE
Many people have started helping out. For the third year in a row, Olena Matsyuk from Lutsk jumps into the marshrutka after work and travels to kilometer X on the highway to help "Marigold Vasyl":
"Vasyl is an artist and a sculptor, but now he's exchanged his easel and paintbrush for a pickaxe and shovel!"
About 50 regional personalities, representatives of villages and towns, and hundreds of regional companies, organizations and farms have addressed collective letters and petitions to the regional state administration expressing gratitude for Vasyl's hard work. They've asked the authorities to nominate him for the state award. However, bureaucracy is relentless, and Vasyl is still waiting for his award…
Some local artists don't believe that Vasyl can be so noble and generous. Vasyl says there are envious people who claim he's been paid millions for these flowers. They even say he owns several expensive foreign cars, chic estates, and many hectares of land.
"It's all a lie, to say the least." the sculptor laughs "I'll probably disappoint many people, but I actually live in an apartment on the 9th floor of a cooperative building. I don't own any land, houses, or summer cottages. I don't even have a studio or workshop. I've just started building one in my mother's garden in Horokhivsky Raion."
Vasyl doesn't complain. On the contrary, he believes that he has finally embarked on his most important mission – creating a large living picture of his country filled with real flowers for the benefit of his fellow men and the glory of Ukraine.
"I want our planet to be full of flowers and happiness. I love my country and its people. I love life and I live with awareness and love!"
Photos: family archive
Tags: Maidan, New Ukraine, roadside decor, Ukraine, villages, volunteers