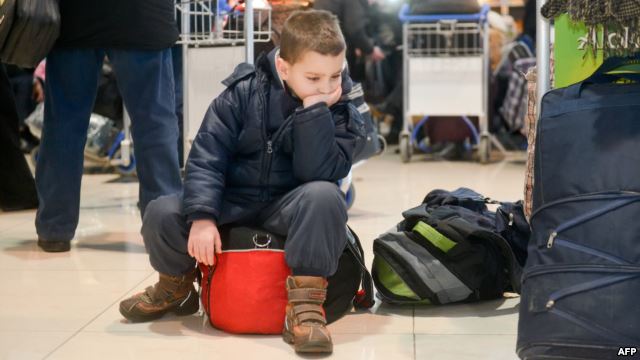 Psychologists don't distort the reality of what is happening in the country but helping them survive the hardship.
Ukraine turned out to be unprepared to lend help to children – both those who ended up in the conflict zone and those who suffered in a different way: lost their parents or became refugees. The volunteers, however, say that treating psychological issues is impossible without a viable solution for social problems. On this and more, we spoke with Valentyna Bukovska, a chairman of the board of the Ukrainian national association for overcoming the consequences of psychotraumatic events..
The state was not ready for this at all. Especially in terms of helping children. If we are talking about the socio-psychological issues, because those two cannot be examined separately in our day and age, as we cannot even imagine psychological aid without social provisions in the shape of accommodation, security, simple foodstuffs. Unfortunately, since the beginning of the events in eastern Ukraine, we have seen that social services turned out to be unprepared.
They are not ready to accommodate such a number of refugees, they are not ready to face families and children who lost their parents and were orphaned. Because there are no government-planned rehabilitation programs, no planned programs to ensure those children and no programs to provide social, even medical, legal benefits for such children. Which is why we are walking around in circles when facing the same kind of problems time and time again.
In order to solve psychological problems, we need to solve the social one, and to solve the social problem we need to determine the legal status of each child. As such, it is a process which is lengthy as there is no established, clear, fast mechanism, lots of bureaucracy, a lot of forms, applications, queues etc. Of course, this affects their psychological state as well.
What do you think this mechanism should look like? Judging from the experience of the countries that have survived war in their recent history, many people start out thinking that this situation is temporary. And then it turns out that it can last years or even forever.
This issue is one of the first we came to face when we received the first refugees. They were all convinced that it would only be a week, ten days max, and then they would leave. Then, when they understood that it will last a long time, and they understood that there are a lot of problems with registering and collaborating with the state services, the people started leaving the country massively. I even remember that about a year ago, 11 months, maybe, everyone said that they would stay for a week here and then leave the country because it's impossible to get anything done here, very difficult, that it would be easier outside the country. Many people were unable to leave and stayed here, and have to get accustomed to the situation in some way.
The reality is that all those mechanisms and government procedures should be made much faster, much easier, lend them complex aid. And of course, those are the mechanisms and structures that we will reach faster than others, but the process is taking a very long time.
How do you explain what is happening in the country to the kids? It is difficult for adults to understand what is happening, but their entire lives are being ruined.
First we try to explain what is happening within the family. We are not working with children separately from their families. It is complex work, with the entire family. It is difficult to understand what is happening inside the family unit and how the family sees the events in the country. And of course, we don't break the schemes they have as of today, we don't give them anything new. We are forced to part with our personal visions, as psychologists. We only take into account what the family sees, how mom and dad see, the situation in the country, and we respect the vision they have when starting our work with the child.
But they use these schemas when they go to school, when they play in the yard, when they meet their peers?
No, in terms of that, we hold psycho-educational talks with the parents. We explain how the atmosphere in the family may support and influence how the child is viewed in their new environment. The acceptance rate depends on the mood in the family and the mood of the child who is venturing into a new school environment.
The most difficult category of children are orphans. Where are they, what happened to them? Do you talk to them, how can we help?
I don't talk to them personally, I don't have experience of working with complete orphans. But we have many children in our system who have lost one of their parents or a sibling. There is another difficult category: the kids who have seen death. For example, their brother got blown up right before their eyes. We have such children as well. They live in refugee compounds, or even if they live in apartments or with their families, their close ones, they also ask for psychological help.
We work with the family and the child individually. We use the art therapy method, work with the trauma, use game therapy, fairy tales, sand therapy, in order to avoid secondary trauma. This work is very non-invasive, and very long-term.
How do we prevent these children from disappearing? How can we adapt them to their new lives? Is there a program for the future of Ukraine as a whole?
There is nothing like this for all of Ukraine. This is what I was talking about, that there are no national Ukrainian rehab programs, unfortunately, there are no aid programs. This is what we're aiming for. The first thing we can do is support the children, the parents, the family. Because the child spends most of their time in the family. Their parents should be the resource to lend them the necessary energy and support. Therefore, it is very important to get the parents out of the state of trauma and shock, and then they, in turn, may help the child adapt.
The children have to be shown by any means possible that they are loved, supported, that the parents are ready to understand their child, their needs, understand the child's behavior may have changed naturally, and that this may be just a passing phase. Because every child should clearly understand that they have people who support, love, and help them. And only with this support, this resource, can the child adapt and survive all this.