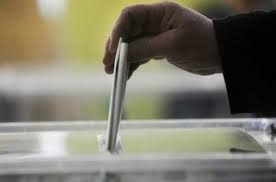 The Committee of Voters of Ukraine has not seen any serious violations of election law that might affect the results of the elections. This was stated by CVU Chair Oleksiy Koshel at a press conference in Kyiv Sunday.
"At the moment we have no reason to talk of fraud or any serious violations of the electoral process. I mean facts that might affect the outcome of the voting," he said.
Koshel said that the CVU has about four thousand observers in all oblasts and regions of the country, except the Crimea. At the moment these observers have registered 350 violations of election law, but more than 80% of the information on violations received from the observers constitute minor technical violations related to procedural aspects, said the CVU Chair.
"Compared with the 2012 elections we registered three times less violations at this time. There is no serious evidence that could point to electoral fraud," he added.
In addition, Koshel said that the CVU was working closely with the police, and police officers promptly respond to information about any attempts to violate election laws.