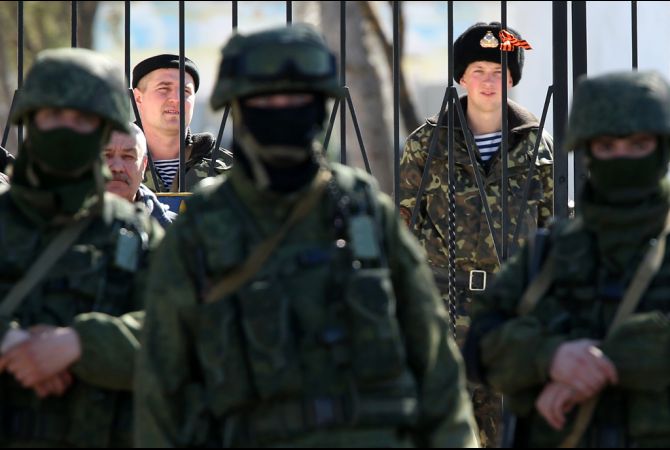 A Ukrainian base in Crimea surrounded by the "little green men," heavily armed troops wearing no ensignia to hide the fact that the troops were Russian special forces. February 2014 
Die russische Besetzung der Krim hat Auswirkungen für die Bewohner der ukrainischen Halbinsel im Großen und im Kleinen. Jetzt hat Nowij Region-2 eine Liste von 21 Dingen veröffentlicht, bei denen sich das Leben für alle Bewohner dieser Region verändert hat.
Es gibt noch etliche Veränderungen mehr, die insbesondere Auswirkungen auf die Krimtataren haben, aber hier ist die Liste der offensichtlichsten Änderungen, die nach Ansicht der Webseite jeden auf der russisch besetzten Krim angehen:
Wodka kostet mehr und wird nach 22.00 Uhr nicht mehr verkauft.
Die Bewohner können nicht mehr an spontanen politischen Treffen teilnehmen, "selbst wenn sie den Behörden und Wladimir Wladimirowitsch Putin persönlich danken wollen."
Krimer dürfer keine Zimmer mehr an Besucher vermieten.
Krimer werden in die russische Armee eingezogen werden und dienen nicht mehr in Jalta, sondern in Tschetschenien, Dagestan, dem hohen Norden und dem Fernen Osten.
Schwangere Frauen können nicht mehr "auf direkte Unterstützungszahlungen für die Geburt von Kindern" hoffen. Das Geld, das der Staat ihnen gibt, ist nur für ihre Kinder und das wird auch in Zukunft so sein.
Wer einen russischen Pass und den Wohnsitz auf der Krim hat, kann für den Urlaub nicht ins Ausland reisen: Man erwartet von ihnen, dass sie auf der Krim bleiben "oder nach Sotschi fahren und Patrioten werden."
Bewohner der Krim können kein Geld mehr als informelle Taxifahrer verdienen: Es gibt einfach nicht mehr genug Touristen.
Weil Moskau keine Bürgermeisterwahlen mehr zulässt, bleibt den Krimern die konstante Flut von Wahlkampfwerbung und Wahlversprechungen erspart.
Wer in der ukrainischen Armee gedient hat, erhält die Chance, wieder zu dienen – in der russischen Armee.
Die Teilnahme an Demonstrationen bringt kein Geld mehr von den Behörden; sie kann stattdessen dazu führen, dass man "bis zu 15 Jahre im Gefängnis" einsitzt.
Der mythenumwobene "Rechte Sektor" wird die Träume der Krimer in der Nacht nicht mehr stören: "Sieben Parteien russischer Nationalisten überwachen verdächtige 'Russen und Krimtataren', die 23 Jahre lang in der Ukraine Opfer des Einflusses von 'banderistischer Propaganda' ["faschistischer" Propaganda, nach Stepan Bandera] waren."
Krimer, die schon russische Pässe erhalten haben, werden einiges über einen wichtigen Aspekt der russischen Geographie lernen: die Lage der Gefangenenlager in verschiedenen Teilen der Russischen Föderation.
Krimer werden nicht mehr für die Teilnahme an den 1.-Mai-Demonstrationen oder Kundgebungen zum Tag der Stadt bezahlt. Sie dürfen auch keine "eigenen Abzeichen tragen oder ihre eigenen Parolen rufen, wenn sie an der Tribüne vorbeiziehen."
Die Krimer, die lange Zeit ihren eigenen Präsidenten in sozialen Netzwerken verfluchen konnten, erfahren nun, dass sie das keinesfalls tun dürfen. Stattdessen müssen sie alles loben, was der russische Präsident tut.
Die Schulkinder auf der Krim müssen alles vergessen, was ihnen von den "Fälschern aus der Ukraine" über solche Themen wie das mongolische Joch und die terroristische Hungersnot gelehrt wurde. "Wie konnten die Russen Hunderte von Jahren unter dem Joch der Tataren überleben?"
Krim-Bewohner haben nun zu lernen, nicht stolz auf sich selbst und ihre Familien zu sein, sondern auf den russischen Staat.
Krimer sollten nun auch bedenken, dass "es in Russland keinen Sex gibt, genauso wie es in der Sowjetunion keinen gab." Sie dürfen nicht mehr tolerant gegenüber Homosexuellen oder Lesben sein, und sie haben sich daran zu erinnern, dass sie "eine junge Frau nur wie das Heimatland, die Armee, den Präsidenten und das Vaterland" zu lieben haben.
Sie müssen sich den russischen Ernährungstraditionen anpassen, darunter einige sehr verwirrende mit russischen Gerichten, die ukrainischen entsprechen, aber nicht mehr so genannt werden dürfen.
"Junge Menschen auf der Krim müssen sich … an 'eine zweite regionale Landessprache gewöhnen', wenn nicht für [sich], dann [ihre] Kinder in den Schulen." Und sie müssen sie besser sprechen als Ukrainisch, weil sie in der Zukunft überallhin in Russland gesendet werden können.
Krimer können "andere Nationalitäten in Blogs und sozialen Netzwerken nur dann verfluchen, wenn sie in der Ukraine sind" (zum Beispiel, Ukrainer und ihre Kultur). In der Russischen Föderation kann dies "auf der anderen Seite in den Knast führen. Aber die Liste der zugelassenen und abgelehnten Völker ändert sich ständig 'nach jedem Reset in den Beziehungen zwischen der Russischen Föderation und den Vereinigten Staaten'." Es ist also am besten, die Nationalitätenfrage komplett zu vermeiden."
Krimer müssen nun immer ihre Pässe bei sich tragen, weil sie diese ggf. Beamten vorzeigen müssen, etwas, das vor sechs Monaten noch nicht verlangt wurde.