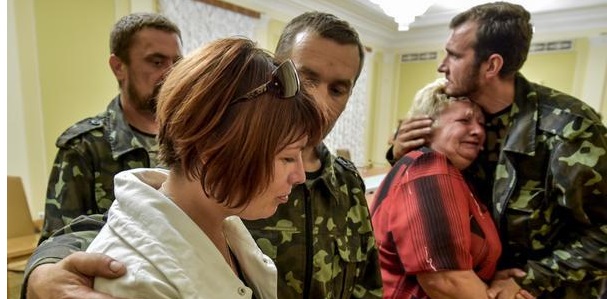 17 Ukrainian soldiers who have been freed from imprisonment were exchanged for Igor "Demon" Bezler's girlfriend Olga Kulygina on July 29. 
This is reported by Obozrevatel publication citing the Facebook page of journalist Oleksandr Bilinskiy.
"Today mediator Volodymyr Ruban freed and transported 17 prisoners of war from Horlivka, which were held by Bezler. They were exchanged for the woman Bezler has constantly been talking about, Olga Kulygina, Bezler's friend from the FSB," writes Bilinskiy.
"Do I understand correctly that Bezler, who publicly promised to free Kulygina, will never return to Horlivka, and left the city in the hands of Botsman?" He added.
This information was confirmed by the terrorists by RIA Novosti, which reported that the Horlivka mercenaries exchange 17 Ukrainian prisoners of war for Kulygina.
The terrorists called her "the wife of one of the comrades."
Earlier it was discovered that the 17 Ukrainian servicemen that were freed in the east of Ukraine arrived in Kyiv.
President of Ukraine Petro Poroshenko held a meeting with the mothers and wives of the servicemen who had been held hostage by the mercenaries in Horlivka, reports the website of the head of state.
"We are fighting for all the Ukrainians who are being held hostage by bandits and terrorists to be freed. Despite the fact that these monsters are torturing our boys, our soldiers are very strong in spirit and withstand the challenge with dignity," emphasized Poroshenko.
He reported that the operation to free the hostages was under his personal control and shrouded in secrecy, as any additional information could have interfered with the liberation of the hostages. This is why the wives and mothers of the hostages were only informed about the fate of their loved ones after the end of all activities aimed to free the Ukrainian servicemen.
"I promised to engage with this issue 24/7. And though the situation today is very complicated, the health and life of every Ukrainian citizen is my priority," stated Poroshenko.
"Ukraine is proud of the courage with which you held on. And you can be proud of your loved ones, how much they believed in your return and fought for you," he said in his address to the Ukrainian soldiers.
The president stated that until recently the mercenaries had 168 hostages. "Henceforth their number has decreased by 17," concluded the President.
Source: Sled
Translated by Mariya Shcherbinina
Tags: Donbas, Donbas war (2014-present), Igor Bezler "Bes", PRD, Ukrainian soldiers